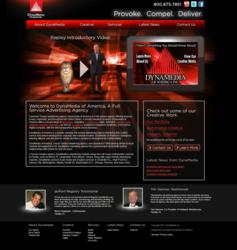 The site is engineered to focus on lead- gen, to artfully resolve Flash video hurdles and to elevate the visitor experience.
Tampa, FL (PRWEB) September 22, 2011
Tampa advertising agency DynaMedia of America partnered with Tampa Web development firm Bayshore Solutions to create a web presence that walks their talk to "Provoke, Compel and Deliver" for their website visitors. DynaMedia of America had existing company videos that they needed to feature on their website. They looked to Bayshore Solutions to create a web site that generates leads and ensures a quality visitor experience. Bayshore Solutions delivered their results oriented high impact website design, DynaMediaofAmerica.com.
"Bayshore Solutions took our thoughts and ideas and turned them into a digital masterpiece," stated Cody Lowry, President and CEO, DynaMedia of America. "Our site went live on Friday (before a holiday weekend), and we received our first inbound lead via form submission on the website Tuesday morning. Great job!"
Bayshore Solutions extended DynaMedia of America's bold red logo, into the kinetic look in the website graphics. Specific treatments enhance web visitors' experience and ease of travel throughout the site. Dedicated sections highlight their distinct competencies in auto dealer advertising services, while maintaining a broad appeal across all industries.
Bayshore Solutions integrated its web content management system, WebModules, with the site. This enables DynaMedia of America staff to easily and instantly update content, and implement search engine optimization measures to keep their site competitive.
Custom video web development was applied to accommodate the Flash-based videos. This work enables web visitors on all platforms, including Apple iPhones and iPads to view video content that would otherwise be inaccessible to those devices. Extraordinary attention was given to ensuring a quality web with the videos. Website coding detects when a visitor has already viewed a video and if so, presents a still image with the option to view the video again, rather than the industry standard default video restart.
"Creating compelling, high impact website designs that deliver results is exactly what Bayshore Solutions sets out to achieve for our clients." said Kevin Hourigan, President and CEO of Bayshore Solutions. "It is a real pleasure to launch websites rich in functionality and fine-tuned for performance like DynaMediaofAmerica.com."
Bayshore Solutions partners with DynaMedia of America for a number of clients in delivering the digital aspects of holistic marketing and advertising services. Examples of such successful collaborations include online and traditional marketing initiatives with BECO electric and Craig Technologies.
About DynaMedia of America
A premier full service Tampa advertising agency, DynaMedia of America offers a broad range of results-oriented specialties, including TV production, radio, billboard, creative, public relations, Hispanic marketing, as well as DynaDigital powered by Bayshore Solutions, a full-service digital Web Interactive Agency, with the internet expertise to grow your business. This Tampa advertising agency has a proven track record of lasting relationships since 1986. Serving markets throughout the US including all major metropolitan markets in Florida, such as Miami, Ft. Lauderdale, Palm Beach, Tampa; DynaMedia of America also delivers local media and creative services in Charlotte N.C., High Point N.C., Kansas City, Birmingham, Atlanta, Duluth GA, Washington D.C., Chicago, Phoenix, and many more. Visit their website at: DynaMediaofAmerica.com.
About Bayshore Solutions
Tampa Web Design and Tampa Web development firm, Bayshore Solutions offers award-winning capabilities in Web design, interactive marketing, hosting, e-commerce and custom applications. Bayshore Solutions has delivered Web development services to over 1,500 clients in 54 countries with physical offices accessible to Tampa, Orlando, Miami, Fort Lauderdale, Dade County, and Broward County in Florida. For more information visit the Tampa Web design company at http://www.BayshoreSolutions.com
Follow Bayshore Solutions on Twitter @BayshoreWebPros or subscribe to the YouTube Channel for the latest industry updates and Internet marketing tips and strategies. For an inside view on the latest at Bayshore Solutions and to take part in interactive polls, news and featured websites, make sure to Like us on Facebook.
###