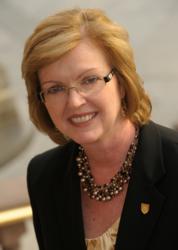 As President and CEO of Penn Mutual, I am gratified to know that we share the enduring values of the Irish people: hard work, achievement and protecting those dear to us.
Horsham, PA (PRWEB) September 22, 2011
The Penn Mutual Life Insurance Company, a more than 164-year-old company, is pleased to announce Eileen McDonnell, president and chief executive officer, has been named to Irish America magazine's "Wall Street 50."
"Wall Street 50" is a celebration of the best and the brightest Irish Americans and Irish-born who demonstrate standout success in the financial industry. Those named to the list will be honored at an event on Thursday, September 22 in Manhattan. Brian Ruane, CEO of Alternative and Broker-Dealer Services at BNY Mellon, will deliver the keynote address to this highly successful group of individuals.
"It's an honor to be named to this esteemed list of Irish American financial executives," said McDonnell. "The accomplishments among this distinguished group are many and I am proud to be counted in their company. As President and CEO of Penn Mutual, I am gratified to know that we share the enduring values of the Irish people: hard work, achievement and protecting those dear to us. Every day we are helping to deliver on the hopes and dreams of future generations by enabling American families to realize financial security."
McDonnell is a second-generation Irish-American; all four of her grandparents were born in Ireland.
McDonnell is one of only a few females holding the CEO position at a major U.S. life insurer. She joined Penn Mutual in February 2008 as executive vice president and chief marketing officer, and chairman of the board of Hornor, Townsend & Kent, Inc. She was then promoted to president of Penn Mutual in 2010, a position she continues to hold. She is also a member of the Janney Montgomery Scott LLC board of managers, and a member of the Penn Mutual board of trustees.
McDonnell is a 25-year veteran of the financial services industry. She was president of New England Financial, a wholly-owned subsidiary of MetLife and senior vice president at Guardian Life Insurance Company. McDonnell also held positions at AXA/Equitable. In addition, she was a member of the Master of Science in Management faculty at The American College, where she held the Chair for Women and Financial Services.
An active industry participant, Eileen is a member of the Board of Directors of LL Global, Inc., the holding company for LIMRA International and LOMA. She has also served on the Board of the Insurance Marketplace Standards Association (IMSA) and is a National Advisor for Vision 2020.
McDonnell graduated from Molloy College, Rockville Centre, New York, where she majored in mathematics and computer science, and received an honorary doctor of laws (LL.D.) degree in 2011. She formerly served as member of the Molloy College board of trustees. McDonnell earned her MBA in finance and investments from Adelphi University, in Garden City, N.Y.
About Irish America magazine
Irish America is the leading national glossy publication of Irish interest in North America. Since its inception in October 1985, Irish America magazine has become a powerful vehicle for expression on a range of political, economic, social and cultural themes that are of paramount importance to the Irish in the United States. It has helped re-establish the Irish ethnic identity in the U.S. (30 million according to the last U.S. census) and highlighted the best political and business leaders, organizations, artists, writers and community figures among the Irish in America. Visit http://www.irishamerica.com .
About The Penn Mutual Life Insurance Company
Since 1847, Penn Mutual has been driven by our noble purpose to create a world of possibilities. At the heart of this purpose is the belief that life insurance is the most protective, responsible and rewarding action a person can take, and is central to a sound financial plan. The company is committed to helping families unlock life's possibilities through life insurance and annuity solutions. This is accomplished through a national network of financial professionals, who help clients make great things possible. Penn Mutual supports its field representatives with brokerage services through Hornor, Townsend & Kent, Inc., Registered Investment Advisor and wholly owned subsidiary. Member FINRA/SIPC. Visit Penn Mutual on the Internet at http://www.pennmutual.com/.
A1JC-0920-04
©2011 The Penn Mutual Life Insurance Company, 600 Dresher Road, Horsham, PA 19044
###