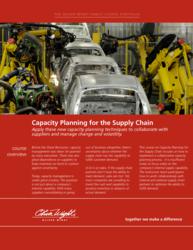 "This course is different than other capacity planning courses in that it is not focused on just planning capacity inside one's own company." James Correll, Lead Instructor
New London, NH (PRWEB) September 22, 2011
Oliver Wight Americas, Inc., a consulting and education firm that specializes in integrated supply chain management, has announced its newest offering: Capacity Planning for the Supply Chain designed for top and middle managers.
Capacity Planning is the ability to predict the requirements (people, equipment, facilities) needed to satisfy customer demand. The scope of requirements ranges from internal resources of a manufacturing or services company to the suppliers' suppliers in the supply chain.
This course is designed for top and middle managers and buyers who are concerned with ensuring that their Supply Chain has the right capacity deployed in the right place to assure customer delivery performance without sacrificing operating efficiencies and costs. This course will be offered November 16-17, 2011 in Chicago, Illinois for $1,550 per person.
Dennis Groves, President of Oliver Wight Americas, explains why this course is important to companies: "Corporations are experiencing the need now, more than any time recently, to conserve cash on the one hand and, on the other hand, to invest cash wisely. This situation is causing companies to review decision-making processes, such as capacity planning. There are opportunities to improve capacity planning, chiefly better ways to communicate and align with both internal and external suppliers' capacity. With improved alignment and integration come better capacity investment decisions."
One of the instructors of the class is James Correll, a capacity planning expert with decades of experience in helping companies better manage and plan capacity. He is also author of the book Gaining Control: Managing Capacity and Priorities. Jim observes: "This course is different than other capacity planning courses in that it is not focused on just planning capacity inside one's own company. Participants will learn how to collaborate with suppliers in developing integrated capacity plans and how to improve risk management. The material is oriented around the supply chain, not just a single node in the supply chain."
Following is the course schedule: http://www.oliverwight-americas.com/courses/public/capacity-planning-course.htm
About Oliver Wight Americas, Inc.
Oliver Wight Americas, established more than 40 years ago, is recognized throughout the world as thought leaders and practical coaches and educators. The company is a pioneer in integrated business planning methodologies, including enterprise resource planning, capacity planning, master scheduling, production planning, demand planning, and sales and operations planning.
The company's coaches and educators are required to have practitioner experience operating to industry best practices as a prerequisite to joining the firm. These seasoned professionals excel at transferring knowledge and experience at all levels of an organization. The largest worldwide consultancy of its type, Oliver Wight has offices throughout Europe, North and South America, and the Asia/Pacific Region. For more information, please visit http://www.oliverwight-americas.com.
###