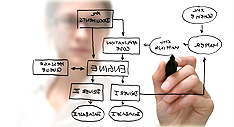 That's where our managed IT services and data backup alternatives have really proven themselves year after year with our clientele
Hollywood, FL (PRWEB) September 22, 2011
South Florida Based Connections for Business moves forward with its commitment in 2011 to be the industry leader in managed IT services to its business customers throughout Palm Beach, Broward and Dade Counties. This commitment enables Connections for Business to expand its offerings to include outsourced IT services such as hosted Microsoft exchange, managed server services, managed desktop services, managed network services, data backup, anti virus software and disaster recovery.
In today's online and technology world, operating a business is more than just buying the right computer hardware and software for staff. Having the right support along with keeping up with the latest software update and security for the business' valuable data is crucial. "With some of our small and medium sized business clients, if something as small as a virus or even a minimal loss of data were to occur and they did not have systems in place to recover, it could cost them literally tens of thousands of dollars" says Connection's President, David Bennett. "That's where our managed IT services and data backup alternatives have really proven themselves year after year with our clientele."
In their recent annual corporate review, Connections for Business resolved to continue with its efforts to moving forward towards becoming the managed IT industry leader in South Florida. Ongoing reinvestment in the latest technology and growth and security of it's server housing facilities in Hollywood, FL have been the testament or their commitment to be the best to their clients. "We just keep testing systems and polling our clients to ensure that we are offering 100% of their business technology needs, so they don't ever have to worry about anything. We really are a complete solution for any sized business," says Bennett.
Most new and existing businesses aren't aware of exactly what their IT needs are. Connections for Business offers a comprehensive consultation to evaluate exactly what each individual company's needs are and offers a solution to fit their needs and budget. For more information about their services, Connections for Business has a website that provides detailed information on many of their services located at http://www.Connections.com . Alternatively, their representatives can be reached directly by calling (954) 920-9604
About Connections for Business:
Connections for Business is the leading managed services provider in South Florida. The company recognizes and understands the swiftly altering landscape in the technology world, where its focus is to provide elegant yet affordable solutions to meet clients' business needs. The company's roots in application development are a core competency. The applications team is lead by Matthew Giles, and is instrumental in developing ConnectSMART, a business dashboard and reporting tool that was built to help Connections manage its own practice, and is now resold to companies around the world.
###