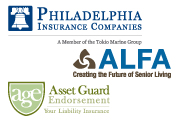 Bala Cynwyd, PA (PRWEB) September 21, 2011
After a lifetime of saving, seniors and their families enjoy the benefits of careful retirement planning including living life on their terms in a senior living community. But, in moments, an unforeseen accident can threaten the financial health of a senior and result in a loss of their hard earned assets.
Fires, slip and falls, scooter accidents and even dog bites are all incidents where seniors in senior living communities can be held personally liable. The largest advocate for professionally-managed, consumer driven senior living communities in the country, the Assisted Living Federation of America (ALFA), is educating both senior communities and the residents they serve to help them avoid financial hardship due to accidents and third party claims. ALFA is highlighting an innovative product called Asset Guard Endorsement (A.G.E.) liability insurance, which closes the gap to help protect seniors' finances and reduce costs and risk for the communities where they live.
"Seniors deserve the opportunity to protect their financial assets if an accident occurs and third parties file claims; the A.G.E. liability insurance program can help," said Jamison Gosselin, SVP of Marketing at ALFA. "A.G.E. liability insurance is no ordinary renters insurance program. It is a renters insurance option that has been crafted to serve seniors choosing a senior living community and families who want to protect their loved ones' assets."
A.G.E. provides seniors with coverage to protect their assets and lifestyle against third party claims resulting from bodily injury or damage to their property. It also helps senior care communities by decreasing risk and keeping their residents safe.
"The fastest growing segment of our population is seniors 65 and older. During a challenging transition to a new home or environment, seniors might not realize or think about potential accidents where they can be held personally liable," said Chuck Pedone, Regional Vice President of Marketing for Philadelphia Insurance Companies (PHLY) which underwrites this coverage. "Accidents can and do happen. This coverage is designed to provide the very best protection to both seniors and the communities where they live."
To learn more about the Asset Guard Endorsement insurance coverage, you can visit http://www.assetguardendorsement.com/frontend/Default.aspx or email info(at)ageinsurance(dot)com
About Assisted Living Federation of America
ALFA is the largest national association exclusively dedicated to professionally-managed, consumer driven senior living communities and the seniors and families they serve. ALFA creates the future of senior living inclusive of independent living, assisted living and Alzheimer's care services by advocating for choice, accessibility, independence, dignity, and quality of life for all seniors, facilitating business excellence and ensuring an informed public. Visit ALFA's Web site at http://www.alfa.org.
About A.G.E. Insurance
A.G.E. (A.G.E.-Asset Guard Endorsement®) Insurance is a Personal Liability Insurance product filling an ever-expanding yet untapped niche in the Residential Care marketplace. The A.G.E. program fills the gap vacated by the loss of Homeowners/Renters Insurance once a client moves into Residential Care. Visit http://www.assetguardendorsement.com today to Get a Quote or Buy a Policy online.
About Philadelphia Insurance
Philadelphia Insurance Companies designs, markets, and underwrites commercial property/casualty and professional liability insurance products incorporating value added coverages and services for select industries. In operation since 1962, the Company, whose commercial lines insurance subsidiaries are rated A++ (Superior) by A.M. Best Company and AA- for counterparty credit and financial strength by Standard & Poor's, is nationally recognized as a member of Ward's Top 50 and National Underwriter's Top 100 (for in-depth financial information, please visit our website at http://www.phly.com. The organization has 46 offices strategically located across the United States to provide superior service.
Philadelphia Insurance Companies is the marketing name for the property casualty insurance operations of Philadelphia Consolidated Holding Corp., a Member of the Tokio Marine Group. In the United States, all products are written by insurance company subsidiaries of Philadelphia Consolidated Holding Corp. Coverage may not be available in all jurisdictions and is subject to actual policy language. Certain coverage may be provided by a surplus lines insurer. Surplus lines insurers do not generally participate in state guaranty funds and insureds are therefore not protected by such funds. Non-insurance products and services may be provided by independent third parties.
###