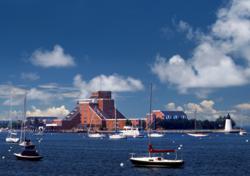 Proceeds go to the Gloria Gemma Breast Cancer Resource Foundation to support efforts for breast cancer education.
Newport, RI (PRWEB) September 22, 2011
Local residents and guests can join the fight against breast cancer at "Stillwater Spa's Pink Martini Night Presents The Bridges to Flames of Hope" event at the Hyatt Regency Newport hotel on Friday, October 7, 2011 from 5:30 - 8:30pm. The upbeat evening will raise funds and awareness for the ongoing effort to find a cure for one of the most significant women's health issues. All proceeds from the event will go to the hotel's partner, the Gloria Gemma Breast Cancer Resource Foundation in Pawtucket, to support efforts for breast cancer education.
Scheduled during National Breast Cancer Awareness Month, the Newport hotel's third annual Pink Martini Night will celebrate the focused resolve of all who have been affected by breast cancer and the passion with which the cure is being sought. The hotel will be lit in pink lights, and for a $20 donation at the door, attendees will enjoy:

Signature Pink Martini (a delicious blend of strawberry vodka, cream de cocoa, strawberry puree, Coco Lopez & Bailey's® Irish Cream)
Alex & Ani "Bangle Bar" with bracelets and charms for purchase to benefit the Gloria Gemma Foundation
Beauty Bar with Youngblood Cosmetics touchups, Pink Feather hair clips, Twinkle of an Eye Applications with Primavera products and more
Complimentary bra fitting station by Uplifting Makeover LLC. (Reservations are recommended; please call the Stillwater Spa at 401-851-3225)
Silent auction featuring complimentary stays at local restaurants, other Hyatt hotels in the U.S. and more
Complimentary hand and chair massages and mini treatments by Stillwater Spa and local skincare line Farmaesthetics
Breast Cancer Education Station
Spa sample amenity bag
Live music, food and beverages
Complimentary valet parking at the Newport hotel
The special evening will also feature:
Boob Project Art Installation, courtesy of the Gloria Gemma Foundation: This installation by artist Jill Buffington will introduce patients and survivors to a multifaceted project celebrating art and breast cancer awareness. The exhibit focuses on the various degrees of breast surgeries and the choices of each portrait's subject. It celebrates each individual's personal decision for addressing his or her illness, through the impressions of one's chest on a canvas. Each piece is unique to its subject and tells a compelling story without words.
Stitches of Hope: This will feature the unveiling of a unique 150-foot pink scarf knitted by volunteers from the local Horizon Bay Retirement Living facility, with hotel staff and guests joining the effort. Following Pink Martini Night, the long scarf will be disassembled into shorter scarves and donated to a local oncology center to keep cancer patients warm during their treatments.
For reservations or information on Pink Martini Night, please contact Hyatt Regency Newport at (401) 851-1234, or visit http://www.newport.hyatt.com.
About Hyatt Regency Newport Hotel & Spa
Located on Goat Island in Newport Harbor of Narragansett Bay, Hyatt Regency Newport is just minutes from the Gilded Age mansions, Cliff Walk National Recreation Trail and absorbing history of Newport, Rhode Island. The hotel's 257 guestrooms, many with spectacular water views, are appointed with elegant interiors and décor. The renovated, full-service Stillwater Spa offers myriad treatments with marine-based products, while the adjacent fitness center features an indoor pool. Guests can drive from the hotel's two-story parking garage over Goat Island bridge or reach downtown Newport aboard the electric "Plug 'N Play" boat launch – a scenic and environmentally friendly service. The Windward Restaurant offers the finest in seaside dining; Pineapples On the Bay is a casual waterside restaurant; and Five33 Lounge serves creative cocktails and light fare before great views of Newport Bridge and Narragansett Bay. The hotel is also a splendid destination for meetings and special events, with 25,000 square feet of renovated indoor space and 50,000 square feet of outdoor space.
###