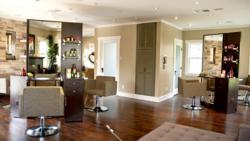 Los Angeles, CA (PRWEB) September 22, 2011
After two and a half years - CHAZ DEAN, one of Hollywood's most renowned celebrity hairstylists and creator of the WEN® Hair & Body Care product line – has finally unveiled the all-new CHAZ DEAN STUDIO salon. Working closely with interior designer Jeff Lewis of Bravo's hit reality series "Flipping Out", Chaz completely transformed the three bungalows that comprise the salons as well as part of the grounds into a serenely elegant and thoroughly modern beauty destination for celebrities and fashionable men and women. Their collaboration with Jeff Lewis and renovation process was featured prominently on the show and featured many of the significant changes.
Ensconced in the very heart of Hollywood, the CHAZ DEAN STUDIO's historic 1920s Craftsman structures within the compound were kept intact while their interiors - from the roof down to the flooring - were gutted and renovated in carefully planned stages so as not to interrupt day-to-day operations. Sleek, contemporary details such as square base moldings, Caesar stone counter tops and glass tiles were installed along with widely-spaced windows, French doors and sky lights to allow in as much natural light as possible. All the work areas of the salons were equipped with recessed lighting to provide proper illumination and reveal true colors under even the most intense scrutiny of the finished style.
The crisp clean lines and white walls promote a sense of space while underscoring a minimalist theme accented by tiled, textured or patterned surfaces as well as the wood and fabric touches that add warmth and richness. Ultra modern salon chairs, delicately ornate Eastern decorative art and lush floral arrangements punctuate the interiors. Between structures, a courtyard features an outdoor fireplace and a soothing zen koi pond. A private office for Chaz distinguished by personalized touches and a conference area were built on the second floor. To promote an eco-friendly environment, the buildings are now equipped with energy-efficient systems and dual-pane windows to conserve heat and energy. Within the confines of the soothing ambiance of the new salons, clients now find themselves enjoying the ultimate in pampering and beauty with Chaz Dean and WEN®.
# # #