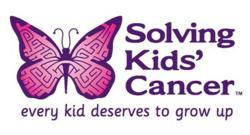 New York, NY (PRWEB) September 22, 2011
Solving Kids' Cancer (SKC), a non-profit organization dedicated to the task of improving survival of the deadliest forms of pediatric cancer, announced today its continued support of Jennerex JX-594 clinical trials for childhood cancer at Cincinnati Children's Hospital and Texas Children's Cancer Center. The recent publication of positive data on Jennerex JX-594 for adult cancer clinical trials in the journal Nature has served to further validate SKC's early championing of this novel experimental agent.
Three years ago, Solving Kids' Cancer first coordinated a strategic partnership between Jennerex and the two hospital centers to begin conducting JX-594 pediatric cancer clinical trials for children suffering from solid tumors. SKC subsequently launched the research projects by providing 100% of the funding. . The first phase of the trials started last year and are currently underway.
"We enthusiastically announce our ongoing support for these pediatric cancer clinical trials at Cincinnati Children's Hospital and Texas Children's Cancer Center," said Scott Kennedy, co-founder and executive director of Solving Kids' Cancer. "Since its inception in 2007, SKC has been a strong believer in the promise of oncolytic virotherapy in the battle against the deadliest forms of childhood cancer. Not only does viral therapy differ from traditional cancer treatments by leaving the healthy and growing cells of children unharmed, it also holds the potential to harness the considerably stronger immune systems of kids to even more effectively fight the disease."
"Jennerex truly appreciates the involvement of Solving Kids' Cancer and the research teams in Cincinnati and Houston," said David Kirn, M.D., president and chief executive officer of Jennerex. "The adult cancer trials for our lead product JX-594 have been extremely encouraging and we have the highest expectations for the important work being done in these pediatric cancer trials."
In a recent study published in the journal Nature, Jennerex and its team of scientists demonstrated the effectiveness of viral agent JX-594 in specifically targeting and infecting adult cancer tumors without harming the surrounding healthy cells. The positive effect was seen over a broad range of cancer types and after only a single dose. With the support from Solving Kids' Cancer, the experimental JX-594 viral agent is currently being tested in pediatric cancer patients up to 21-years-old at Cincinnati Children's Hospital and Texas Children's Cancer Center via direct tumoral injection. The research team is being led by Dr. Timothy Cripe, a practicing pediatric hematologist/oncologist, cancer researcher and professor of pediatrics who also serves as co-medical director of the Office for Clinical and Translational Research at the Cincinnati Children's Hospital Medical Center and Chrystal Louis, MD, MPH of Texas Children's Hospital/Baylor College of Medicine. For more information regarding the pediatric clinical trials, please contact Dr. Timothy Cripe timothy.cripe(at)cchmc(dot)org or Dr. Chrystal Louis culouis(at)txccc(dot)org.
About Jennerex
Jennerex, Inc. is a clinical-stage biotherapeutics company focused on the development and commercialization of first-in-class, breakthrough targeted oncolytic products for cancer. The Company's lead product JX-594 is currently in two Phase 2 clinical trials in patients with primary liver cancer--an international, randomized, Phase 2 clinical trial, and a Phase 2 study of JX-594 in combination with sorafenib. Published studies designed to establish optimal dose levels and the safety profile of JX-594 have shown its ability to selectively target and cause destruction of a variety of common cancer types. JX-594 and other product candidates under development are designed to attack cancer tumors through three diverse mechanisms of action: the lysis of cancer cells through viral replication, the ablation of the blood supply to tumors through vascular targeting and destruction and the stimulation of the body's immune response against the cancer. Jennerex is headquartered in San Francisco and has related research and development operations in Ottawa, Canada and Pusan, South Korea. For more information about Jennerex, please visit http://www.jennerex.com.
About Solving Kids' Cancer
Created by two fathers who lost children to pediatric cancers, Solving Kids' Cancer™ is committed to significantly improving survivorship of the deadliest childhood cancers. One hundred percent of all donations are used to find, fund, and manage clinical trials and scientific programs to rapidly develop the most effective treatments and cures. Solving Kids' Cancer is a 501(c)(3) nonprofit charity. To learn more about our work please visit: http://www.solvingkidscancer.org.
# # #