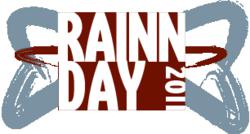 "Dedicated and energetic volunteers across the country create dynamic RAINN Day events that are accessible, informative and inclusive of all students."

- Katherine Hull
Spokesperson for RAINN
Washington, D.C. (PRWEB) September 22, 2011
Today, from Anchorage, Alaska to St. Petersburg, Florida, colleges across the nation are participating in RAINN Day 2011. RAINN Day is a grassroots program empowering students to educate their peers about risk reduction and sexual violence recovery. Studies show that college-aged students are four times likelier to be assaulted than any other age group. Whether led by individuals or groups partnering with police departments, university health services and other like-minded organizations, each and every RAINN Day effort is making a difference in the fight against sexual violence on campus.
RAINN Day events are as unique as the campuses themselves, ranging from flash mobs and concerts to hosted lunches and social get-togethers to tables staffed with information and opportunities for self-expression through art projects. The University of Maryland- College Park is honoring RAINN Day with a moment of silence during halftime of their NCAA women's soccer game against Boston College.
Topics of conversation include safety tips and recovery resources, such as the National Sexual Assault Hotline (800.656.HOPE and online.rainn.org). Student organizers developed innovative ways to spread the word about their events, magnifying their impact through social media such as Twitter (#RAINNDAY) and Facebook (RAINN01).
Organizers are enthusiastic about making such a critical issue more accessible to students through open dialogue. Dee Helton of the University of Tennessee noted, "We are proud to be a part of RAINN Day 2011. Because of our location in the middle of downtown Memphis, ranked number one in violent crimes for major US cities by the FBI, we realize how important it is to raise awareness about sexual violence on campus and provide accurate information to our students on how to be safe."
RAINN Day also highlights the importance of recovery resources such as the National Sexual Assault Hotline for students, following an attack. Dr. Jennifer Heetderks of Occidental College in Los Angeles ensured staff from their counseling center was on hand to assist students, saying, "We believe it's important to have counselors available to students on RAINN Day to inform them about counseling service options on-campus, as well as other resources like RAINN's Online Hotline (online.rainn.org). We want to educate the campus about sexual assault and offer help to those who have experienced it."
Perhaps most significantly, RAINN Day motivates students on campus to make fighting sexual violence a priority. "RAINN Day is a powerful vehicle to get accurate information to college students about sexual violence and how to begin recovering from the crime," said Katherine Hull, spokesperson for RAINN. "Dedicated and energetic volunteers across the country create dynamic events that are accessible, informative and inclusive of all students."
If you or someone you know has been sexually assaulted, please know that the assault is not your fault and that you are not alone. In the event that you are sexually assaulted, find a safe place, and contact the police immediately. To speak with someone who can help you through the aftermath, and accompany you to the hospital, call the National Sexual Assault Hotline (800.656.HOPE) or visit the National Sexual Assault Online Hotline at online.rainn.org.
About RAINN:
RAINN (Rape, Abuse & Incest National Network) is the nation's largest anti-sexual violence organization and was named one of "America's 100 Best Charities" by Worth magazine. RAINN created and operates the National Sexual Assault Hotlines (800.656.HOPE and online.rainn.org) in partnership with more than 1,100 local rape crisis centers across the country. The hotlines have helped more than 1.5 million people since 1994. RAINN also carries out programs to prevent sexual violence, help victims and ensure that rapists are brought to justice. For more information about RAINN, please visit rainn.org, and join the conversations on Facebook (RAINN01) and Twitter (RAINN01, #RAINNDAY).
###