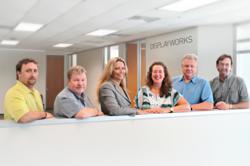 Irvine, CA (PRWEB) September 23, 2011
DisplayWorks LLC, a leader in design, fabrication and management of tradeshow exhibits, events and environments, announced today the hiring of key executives to manage their recently established, full-service facility in Houston, TX.
The roster of highly-qualified Account Executives includes Laura Ryan-Floyd, Mike Browne and Jack Harrison, Additionally, Ron Casteel will serve as Operations Manager, Eric Moquin has been named Design Director and Deborah Harpster will offer account management support.
Laura Ryan-Floyd brings with her over 30 years of exhibit industry experience, managing projects for national and international clients. Her strong client orientation, exhibit marketing expertise and proven track record in corporate sales, make her an ideal partner for her extensive network of clients around the world.
Mike Browne has worked for more than 30 years in the exhibit industry, gaining experience as Shop Foreman and Project Manager before moving to Sales. His longevity in the business has helped him gain success and recognition, and his proven track record has earned him a loyal client portfolio, especially in the oil and gas sector.
Jack Harrison and has been in the event and tradeshow business for over 25 years, working on projects for Fortune 500 companies such as Shell Oil, Penzoil Products, Conoco/Philips, and Schlumberger. Jack's experience spans a range of specialties, from high technology to medical equipment, and he has garnered much praise for his keen understanding of his clients' core values and objectives.
Operations Manager Ron Casteel has extensive operations, project management and leadership skills and brings a full breadth of exhibit industry knowledge and experience to DisplayWorks. Ron's is known for his exceptional quality and service orientation, and he will oversee all production and operational activities of the new DisplayWorks facility in Houston.
Design Director Eric Moquin has over 17 years of design experience and has created innovative solutions for a wide variety of clients. Moquin's work spans many industries, from snow sports and energy to retail and exhibit spaces and he has designed award winning environments for Miller Lite, Clarks and Goodyear. Eric's creativity and client-focused approach will give DisplayWorks Houston a competitive edge in the Houston market.
Deborah Harpster will support the Account Executives with her attention to detail and superior customer service. Over 19 years of marketing experience has given her a keen sense for planning and executing successful tradeshows, as well as, strong skills in budget negotiation and project management.
Herb Hite, DisplayWorks CEO, stated, "We couldn't ask for a better team to represent us in Houston. This region has all the potential for growth and innovation we've been looking for, and we know that our staff will help us attain our goals for greater customer support and second-to-none status in the industry."
The newly opened, 63,000 sq. ft. production, warehousing, and sales facility is part of a strategic push to broaden the company's national service footprint — a move that offers immediate gains in production capacity, warehousing and logistics efficiency for better managing existing clients' exhibit programs while providing a key local presence for DisplayWorks' expanding sales and marketing efforts in this high-growth region.
About DisplayWorks
DisplayWorks is a premier exhibit company specializing in world-class design and customer service. With over 31 years of experience, DisplayWorks has earned the trust of high-profile clientele across wide range of industries. From national or global exhibit programs to events and environments, DisplayWorks provides creative expertise and strategic capabilities to deliver solutions that get results. For further information, please visit http://www.displayworks.com.
For more information about our Houston location, please contact:
Laura Ryan-Floyd
DisplayWorks Houston
7603 Prairie Oak Drive, Suite # 190
Houston, Texas 77086
T: 281.248.9600
F: 281.880.9062
###