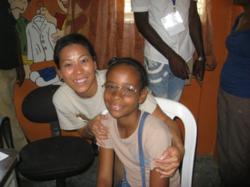 It makes me realize we often take access to healthcare for granted.
St. Louis, MO (PRWEB) September 23, 2011
The Clarkson Eyecare Foundation, in partnership with the Pujols Family Foundation, has made a second successful trip to the Dominican Republic. Clarkson's own Dr. Kathleen Doan and Dr. Michael Rohde were among ten other doctors and assistants on the trip, and were able to serve more than 560 people.
The mission team was able to visit three Dominican "bateys" during their week stay. A batey is a labor community made up of impoverished Haitian-Dominicans. These typically consist of scantily built government quarters or shacks built next to large area dumps. "The people of the bateys were amazing," says Dr. Rohde. "Their gratitude and appreciation was overwhelming, and their joy and excitement from seeing clearly, possibly for the first time, is enough to bring tears to your eyes. Rarely do I see patients in our country respond in such a manner, and it makes me realize we often take access to healthcare for granted."
Dr. Doan expressed her joy at seeing the progress that had been made in the area since her first trip in 2008. Batey Pajas and Batey Aleman have gone "from hopeless and depressed habitats to developing communities brimming with opportunity." The simple act of receiving proper medical care and honing their skills has taught the members of this community how to thrive. "These people now know they have earned a legitimate place in the eyes of the world," says Dr. Doan.
Clarkson Eyecare established the Clarkson Eyecare Foundation in 2004 in an effort to continue and expand on community outreach programs already in place. The Clarkson Eyecare Foundation is a nonprofit eye health organization dedicated to a mission of "enhancing quality of life by providing vision improvement and access to a bright future." The foundation is committed to improving access to vision care through eye care services. It exists to provide eye health services to underprivileged and specific-need individuals.
Continued support for the foundation is needed throughout the year. Individuals interested in supporting the mission of the Clarkson Eyecare Foundation and giving people access to a bright future may send their donation, payable to the Clarkson Eyecare Foundation, to 217 Clarkson Road, Ellisville, MO 63011, or may call 636-227-2600. More information may also be found at http://www.theclarksoneyecarefoundation.org.
###