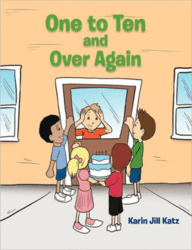 West Bloomfield, MI (PRWEB) September 26, 2011
Karin Jill Katz, a West Bloomfield mother of three, assures that parent-child bonding won't get replaced by digital technology, if it's up to her.
Karin has recently published her first of many heartfelt children's books, "One to Ten and Over Again." Her book focuses on counting and accelerating the learning process for children through imagery, rhyming, and repetition while strengthening visualization through entertaining narration.
Karin graduated from Michigan State University and earned a BA in sociology with a minor in psychology, emphasizing on early childhood development. With the publication of her first book, she went back to the simple basics by teaching numbers in the "old fashion" way taught to her by her own parents. Being the youngest daughter of a devoted mother and holocaust-surviving father, her passion is to create simple and short educational stories that nurture the soul of a child. These stories are meant to stand the test of time with the increasing onset of digital technology that is currently being implemented for teaching children these days.
Nationwide there's a significant percentage of parents who reject early adoption of any sort of technology for their children including for educational purposes. While Karin does believe in multi-media forms of education, she knows full well the world is rapidly headed towards this advancement. Her fear is that books that used to be a mainstay on children's bookshelves and used as an educational nurturing tool will soon become extinct as printed books decrease over time.
Her book series is devoted to inspire parents to re-bond with their children. Karin is excited to embark on her statewide "Going back to the Basics" book tour, where she'll read at elementary schools for children up to 5 years of age. To learn more about Karin's first children's book or to schedule her for a book signing and reading at your school go to: http://www.karinjillkatz.com. Karin's book "One to Ten and Over Again" can be purchased from her website or at amazon.com
###