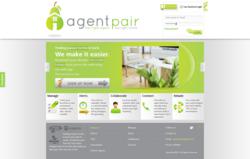 Finding an apartment to rent on Craigslist is hard. We try to make it easier. Clark Giguiere - Founder & Broker
San Francisco, CA (PRWEB) September 22, 2011
AgentPair, a real estate technology company, has recognized the shift in the real estate market. Due to the housing crisis and subsequent tightening of lending standards renting is now the only option for many people. More than 90% of these individuals start their apartment and/or home search online and most always find their way to Craigslist.
Craigslist is not known for its fancy layout but it excels in content. Fresh real estate listings are posted daily for curious eyes. But it's a little like Google, if a listing is not on the top of the heap of links, it's not likely to be seen. With the AgentPair web app a user can bookmark their favorites from Craigslist so they can more efficiently manage their search. Once a user has narrowed down their search, they can share with their social network, and pair up with a real estate agent to tour and help them with the formal matters.
For people looking to ease the stress that comes along with finding a place, this is one web app that works as advertised. The Company is growing in popularity and is expanding it's Partner Agent network in big metropolitan areas.
About AgentPair
AgentPair is a technologically driven Real Estate Brokerage. For more information visit their Facebook page or follow @agentpair on Twitter
###