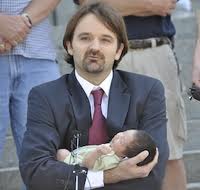 Women deserve better than abortion. The Mexico personhood amendments make Mexico a safer place for women, and of course for their unborn children.
Mexico City, Mexico (PRWEB) September 21, 2011
Personhood USA has learned that early next week, the Mexico Supreme Court is slated to hear and decide the constitutionality of two Personhood amendments. They are expected to deliver a verdict by Wednesday.
Opposition to the Personhood amendments has been minimal to this point, where it is understood that Judge Jose Fernando Franco Gonzales has presented an Action for Unconstitutionality, 11-2009, in an attempt to declare that two of Mexico's personhood amendments, one in Baja California and one in San Luis Potosi, are unconstitutional.
"These personhood amendments were passed by the will of the people in Mexico," stated Gualberto Garcia Jones, J.D., legal analyst for Personhood USA. "The Justice, Fernando Franco Gonzalez Salas, argues that the Personhood amendments in the states of Baja California and San Luis Potosi should be struck down because in his opinion, states should not be allowed to protect life from the moment of conception in their local constitutions. This rhetoric sounds a lot like Roe v. Wade's ruling that the states, and the people, have no right to govern themselves. This is nothing but judicial tyranny of the highest order. Such actions on the part of the judges would be a terrible violation of the rights of the people of Mexico, and the rights of unborn children."
On September 19, 50 nonprofit organizations took out a full-page ad in the largest newspaper in Mexico, El Universal, expressing their concern and opposition to any actions which would overturn the two personhood amendments.
"Abortion is dangerous, not only for the child killed, but for the mother," explained Garcia Jones. "Women deserve better than abortion. The Mexico personhood amendments make Mexico a safer place for women, and of course for their unborn children."
###