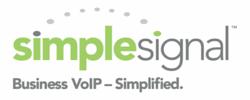 Being named to the Inc. 5000 list is a testament to our employees' commitment to customer service, teamwork and continuous innovation.
Dana Point, CA (PRWEB) September 22, 2011
SimpleSignal, Inc., the leading cloud-based Unified Communications and managed services provider for small and mid-sized businesses, has been named to the prestigious 2011 Inc. Magazine annual 500/5000 list of the fastest-growing private companies in the U.S. SimpleSignal joins Spirit Airlines, television maker Vizio, Honest Tea, Dunkin Donuts and Metrokane, makers of the Rabbit corkscrew, among other prominent brands featured on this year's list.
SimpleSignal, having earned the position of 2166 among 5,000 companies overall and #69 within the telecommunications category, was acknowledged for its 115% growth over a three-year period, from 2007 to 2010.
In addition to its flagship cloud-based PBX phone offering, SimpleSignal provides a growing suite of unified communications solutions including mobile integration, integrated voice-powered applications and cloud services like backup and storage, audio and video conferencing, call recording, and collaboration tools to its tens of thousands of business users throughout the United States.
"It's a known fact that SMBs are adopting IP communications at an ever-increasing rate, said Dave Gilbert, SimpleSignal's founder and CEO. "But I believe being named to the Inc. 5000 list is more of a testament to our employees' commitment to customer service, teamwork and continuous innovation. In an industry where hosted phone service providers are becoming commoditized, this award is a reassurance that our hard work and innovation is paying off."
"Now, more than ever, we depend on Inc. 500/5000 companies to spur innovation, provide jobs, and drive the economy forward. Growth companies, not large corporations, are where the action is," said Inc. Magazine Editor Jane Berentson.
About Inc. Magazine
Founded in 1979 and acquired in 2005 by Mansueto Ventures LLC, Inc. (http://www.inc.com) is the only major business magazine dedicated exclusively to owners and managers of growing private companies that delivers real solutions for today's innovative company builders. With a total paid circulation of 710,106, Inc. provides hands-on tools and market-tested strategies for managing people, finances, sales, marketing, and technology. Visit us online at http://www.inc.com.
About SimpleSignal
SimpleSignal is a hosted PBX and cloud-based Unified Communications service provider. SimpleSignal provides IP phone applications and cloud-based services to tens of thousands of satisfied business users throughout the US and Canada, with a growing list of multi-office clients in many International locations. SimpleSignal has created some of the most innovative and advanced voice "mashups" in the communications industry, leveraging voice technology for Facebook, LinkedIn, and Salesforce.com, among others. SimpleSignal has offices in Denver, CO, and Dana Point, CA. Find us on the web at http://www.simplesignal.com. For sales, call 866-434-4404. Read our blog: http://www.simplesignal.com/blog/.
###