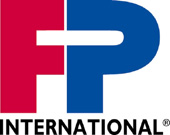 "We are committed to our packaging customers and want to ensure our Quality Management System consistently exceeds their requirements," said President, Joe Nezwek.
Redwood City, CA (PRWEB) September 22, 2011
FP International is a global leader in providing interior packaging solutions systems, used in demanding applications for retail, electronics, medical, health and beauty, housewares, auto and other general packaging markets. FP International is proud to announce that they successfully received recertification of ISO 9001:2008 for their Thornton, IL and their Hopkinsville, KY locations. During this audit, FPI also added departments related to PMOS (Packaging-Made-On-Site) equipment, accessories and services, Field Service Management and the customer helpline. FPI has gained a reputation for developing innovative processes to meet customers' requirements in packing applications and has developed systems with groundbreaking technologies.
President, Joe Nezwek, stated that "The ISO recertification at our domestic locations is only one example of our ongoing commitment to a high level of customer satisfaction, product and process quality, and continuous improvement. There is a definite carryover to all facets of the organization."
The successful conclusion of the ISO 9001:2008 recertification confirms FP International's procedures and processes regarding customer satisfactions, manufacturing, distribution, and services have met the ISO 9001:2008 standards until the next certification date in November 2013. Our Quality Management System has been certified since November 2007.
Nezwek further stated, "We are committed to our packaging customers and want to ensure our Quality Management System consistently exceeds their requirements. We have the quality systems and technical resources in place to provide innovative applications and value added systems for the packing industry."
Michael Kaminski, Senior V.P. Worldwide Engineering & R&D says, "We have always delivered high quality products. Due to the benefits of the recertification, FPI has implemented the same Quality Management System to incorporate our PMOS equipment, accessories and services, Field Service Management and customer helpline. ISO documentation and procedures make it easy for customers to understand that FP International's processes are effectively generating high quality and reliable products. Not only do we make our own film and products, but we use the guidelines in ISO 9001:2008 to continually evaluate processes and to make improvements in overall operating efficiencies."
Leah Whitus, Director Quality Management Worldwide, stated "Having our Quality Management System founded on the principles and structure of ISO 9001 has enabled us to more quickly meet and exceed customer expectations, while providing measurement tools to monitor performance metrics. ISO 9001 certifications require both ongoing internal audits of the Company's procedures and processes, as well as independent annual audits which support our continuous improvement drive." ISO certification demands that FP International's records, regardless of the functional area within the company, demonstrate evidence of activities performed and results achieved according to defined procedures.
Certificates were issued by Bureau Veritas Certification North America, Inc., which is a globally recognized testing, inspection and certification organization, known by reputation and experience. For an in-depth overview of the standards and the certification process, please see the Bureau Veritas website.
About FP International
FP International, headquartered in Redwood City, CA, is an award-winning manufacturer of innovative, protective packaging products and packaging systems. The company's products include PMOS Packaging-Made-On-Site loosefill / packing peanuts, biodegradable packaging, sustainable packaging, kraft bubble mailers, eco-friendly packaging, void fill, environmentally friendly packaging, loose fill, packaging popcorn, and inflatable packaging. Their flagship products include GREEN FAMILY®, 100 percent biodegradable packaging, SUPER 8® loosefill and CELL-O® inflatable packaging air cushions. They are worldwide leaders in eco-friendly packaging. Their instant air cushion packaging systems create a smaller carbon footprint and are cost efficient for customers. The company also designs and installs custom dispensing storage systems for air cushions and loosefill. FP International has manufacturing facilities in California, Delaware, Illinois, Kentucky and Massachusetts. The company has wholly owned subsidiaries in France, Germany, the Netherlands and the United Kingdom with sales offices in Australia and Asia. For more information, visit http://www.fpintl.com , http://www.minipakr.com or call 800-888-3725 or 650-261-5300.
###