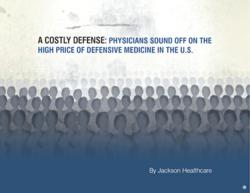 Through our ongoing research, it's become apparent that U.S. physicians are the only physicians in the world personally financially liable for their medical decisions.
Atlanta, GA (PRWEB) September 21, 2011
Physicians estimate the cost of defensive medicine to be between 26 and 34 percent of total annual healthcare costs, according to a recent e-Book by Jackson Healthcare. At an estimated $2.5 trillion in annual spending, this means $650-850 billion is spent each year on medical orders intended to avoid lawsuits rather than treat patients.
Jackson's e-Book, A Costly Defense: Physicians Sound Off on the High Price of Defensive Medicine, summarizes physician opinions on defensive medicine collected between October 2009 and May 2011. The economic and non-economic impacts of defensive medicine may be significantly greater than previously estimated.
According to the publication, no physician respondents in the United Kingdom, New Zealand, Canada and Sweden reported practicing defensive medicine. Likewise, physicians working under contract with the federal government reported practicing significantly less defensive medicine than their private sector peers.
"Through our ongoing research, it's become apparent that U.S. physicians are the only physicians in the world personally financially liable for their medical decisions," said Richard L. Jackson, chairman and CEO of Jackson Healthcare. "Physicians throughout the world enjoy protections and a patient compensation system that free them to focus on what's best for their patients. U.S. physicians' medical decisions are influenced by an ever-present threat of litigation."
The fear of being sued drives physicians to order tests and treatments as added insurance, which inflates healthcare spending.
Some argue that were U.S. physicians protected from personal financial liability, they would continue to order medically unnecessary tests because they profit from them.
Jackson said his organization's research found all the tests and treatments from which physicians could profit to account for only 6.3 percent of their total compensation," said Jackson. "So the belief that physicians order tests and treatments for profit appears to be a myth."
In addition to driving up the costs of healthcare, physicians reported that defensive medicine limits access to certain patients, drives over- and under-treatment, delays adoption of medical innovations and negatively impacts the supply and satisfaction of physicians.
The traditional approach to reducing defensive medicine has been tort reform in the form of damage caps. Jackson believes it is not a sustainable solution, and it addresses the tip of a very large iceberg of costs.
Jackson's full report can be downloaded at JacksonHealthcare.com/Research.
About Jackson Healthcare
Jackson Healthcare provides hospitals with physicians, nurses and allied health professionals to ensure the delivery of timely, high quality patient care. Founded by healthcare innovator Richard L. Jackson, Jackson Healthcare serves more than two million patients in nearly one thousand hospitals each year.
Jackson has consistently been recognized as one of the largest and fastest growing staffing companies in the country by Inc. Magazine, Atlanta Business Chronicle, Georgia Trend and Staffing Industry Analysts. Its healthcare research and charitable work continue to garner national media attention. Visit JacksonHealthcare.com to learn more.
For more information contact Keith Jennings at 678.690.7942 or kjennings(at)jacksonhealthcare(dot)com.
###