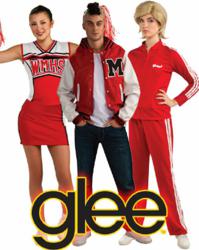 Fans that watch Glee online will be sure to consider Glee Costumes for Halloween 2011.
Mancos, CO (PRWEB) September 22, 2011
TotallyCostumes.com, a leading online costume store, offers a full line of officially licensed Glee costumes just in time for the premier of Glee season 3. GLEEks can join the cast of the Glee tv show as a Cheerios Cheerleader, Coach Sue Sylvester or football player Puck.
The musical comedy GLEE is entering its third season with the first episode premiering on September 20th. The musical GLEE show has become a cultural phenomenon with a loyal fan base of 'GLEEks' and has received prestigious honors such as the Golden Globe and Peabody Award. It has followed the story of the misfits that make up a glee club at McKinley High School in Lima, Ohio. The third season will follow the current set of Glee members as they graduate. Fans that watch Glee online will be sure to consider Glee Costumes for Halloween 2011.
The Glee Sue Sylvester Track Suit Costume includes a red zipper-front track jacket with 'Glee' print on chest, red track pants with elastic waist and a short blonde wig. In sizes for both teen and adult, the Glee Sue Track Suit Costume will have fans looking just like the Cheerios cheerleader coach played by Jane Lynch. Sue Sylvester became the arch-nemesis of the Glee Club and kept her Cheerios cheerleader squad in shape.
The Glee Cheerios Cheerleader Costume includes 'WMHS' tank top, skirt, red and white pom-pom shakers and an inflatable belly for portraying a pregnant Quinn Fabray. The Cheerios cheerleader uniform is done in the traditional red, white and black colors. GLEEks can transform into Brittany Pierce, Santana Lopez, Rachel Berry or other members of the Glee Club squad in the Glee Cheerios Cheerleader Costume available in sizing for both teen and adult.
The Glee Puck Football Player Costume includes a varsity letterman jacket with black 'M' over chest and a bald cap with Mohawk wig. Available for teens and adults, the Glee Puck Costume will transform GLEEks into the arrogant, mohawked football player and bully who eventually joins the Glee Club. The varsity letterman jacket is done in the traditional red and white colors with black trim. Bad boy attitude is not included.
About the Company:
TotallyCostumes.com, a leading retailer of Halloween costumes and costume accessories for all occasions, makes sure the party never stops! This e-commerce costume retailer believes in carrying a large selection of high quality costumes in all sizes, styles and themes to fulfill any party, costume or event requirement. They have a dynamic team that works together so their customers receive their order quickly. Their friendly customer care team is dedicated to providing their customers with diligent service while their shipping facilities work efficiently in shipping your order out as quickly as possible.
###