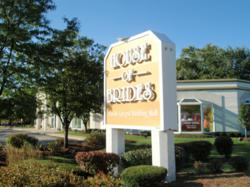 Industry Consultant Dale Buziecki said, "The marketing team is gathering important data that allows us to see what engages our customers in other countries."
Glen Ellyn, Illinois (PRWEB) September 27, 2011
House of Brides was established in 1929 and is the most recognized and oldest bridal name in the world. The company celebrates its 82nd year in business with 6 bridal salons, 4 specialty boutiques and a global e-commerce website, http://www.houseofbrides.com. The website transitioned the company into the global market and expanded its customer and product base beyond national scope.
House of Brides is making efforts to further attract international customers to the website by creating a presence in their areas. The marketing team studies analytics and buying patterns to determine what products and styles individual countries show the most interest in. Industry Consultant Dale Buziecki said, "The marketing team is gathering important data that allows us to see what engages our customers in other countries."
The website sells to customers around the world and has been especially well received in Canada, Untied Kingdom, Ireland, France, Germany and Australia. The key to the site's popularity overseas is that selling prices are lower. Customers from other countries can typically expect to pay 3 to 4 times more at local bridal retail stores. The retailer mark-up is necessary and covers operational costs involved with a brick-and-mortar store. House of Brides.com does not have the same overhead and thus, can offer lower prices to the consumer. It is ideal for international consumers to make purchases through the global website.
House of Brides will continue to analyze industry information in individual countries to sustain international growth and success.
The company has progressed with a persistent focus on the future. The company has adapted to industry trends to bring wedding and special event shopping to the next level.
House of Brides website is viewable at houseofbrides.com.
About House of Brides:
House of Brides established its first brick-and-mortar store in 1929 and has since grown to 10 Chicagoland stores and global E-Commerce website, http://www.houseofbrides.com. Millions of Brides and their wedding parties visit our salons and global website for over 30,000 wedding and special event products.
###