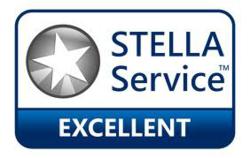 This seal allows us to visually communicate our commitment to provide each and every customer with exceptional service.
Chanhassen, MN (PRWEB) September 26, 2011
ID Zone, a leading supplier of photo identification products, has been awarded an EXCELLENT rating by STELLAService, the largest third-party rating company that identifies the best in online customer service.
"We are proud to be recognized by STELLAService for our efforts," said Chris Penn, vice president of sales and marketing. "This rating shows that ID Zone always tries to go the distance to create good customer experiences."
To earn STELLAService's EXCELLENT rating, ID Zone was unknowingly evaluated on website usability, interaction with customer support, shipping, and more. STELLAService's team of customer service experts visited ID Zone's website, spoke with sales and customer service representatives, purchased a product, and then returned it – all while under cover. After their rigorous assessment that includes more than 300 customer service factors, STELLAservice awarded ID Zone with their EXCELLENT rating.
"Evidenced by its top rating from STELLAService, it's clear that ID Zone recognizes the importance of providing shoppers with quality customer service," said Jordy Leiser, CEO of STELLAService. "By displaying the STELLAService seal, ID Zone will be able to leverage its outstanding commitment to the customer to differentiate from the competition."
An EXCELLENT rating is not easy to come by. STELLAService employs strict standards to remove any potential biases to allow for accurate and fair ratings. As a result, they report that less than half of the thousands of companies they rate pass their meticulous rating process. They do not accept payment from companies to rate them nor can they influence the results. All products are purchased from their own funds.
Online shoppers can look for STELLAService seal to make informed buying decisions with companies they can trust. ID Zone now displays the STELLAService EXCELLENT seal on their website as a promise to their customers. "This seal allows us to visually communicate our commitment to provide each and every customer with exceptional service," says Penn. "We will continue to work hard to prove that we are deserving of this recognition."
About ID Zone
ID Zone is a leading supplier for everything photo ID, including ID card printers, photo ID systems, card printer ribbons and supplies, ID badge software, cards, ID cameras, and ID badge accessories. Their products are used by thousands of organizations that print plastic cards for ID badges, membership cards, loyalty cards, and more. For over 20 years, ID Zone customers have received guaranteed lowest prices, toll-free in-house technical support, and the best service from the most dedicated and knowledgeable staff in the ID industry. For more information, visit http://www.IDZone.com.
About STELLAService
Founded in 2009, STELLAService is an independent provider of customer service ratings for online retailers. They rate thousands of retailers each year across a broad array of criteria, including usability and online tools, shipping and returns and customer support. Based in New York City, the company also publishes reports and other research to help companies worldwide improve their service operations.
###