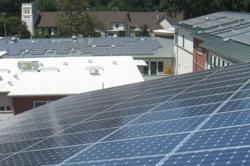 Novato, CA (PRWEB) September 22, 2011
Phase One of the system was installed on the main building in 2010 during the school's massive renovation project.
It consists of 312 American-made Sharp 240 watt solar modules. The second phase was recently installed on the newly completed gymnasium and consists of 154 modules. The school is now able to utilize clean energy that is sustainable and price stable.
The solar panels are roof mounted using an engineered non-penetrating mounting system that is low-profile and attractive on the new buildings. The panels span over 8,174 square feet and help insulate and protect the roof.
The new system will reduce the school's utility costs by thousands every year, while reducing the load on the local utility grid. Excess power generated during the day is banked by PG&E for credit towards future use.
The solar energy system will generate approximately 161,317 kilowatt hours annually, generating enough clean energy each day to power 56 homes. Over the next 30 years, the air pollution saved will be equivalent to eliminating over 6.8 million miles of driving and spare the air nearly 3,000 tons of carbon emissions.
About Ross School
Ross School is a unique single school K-8 district serving 378 children on one campus. Located in the heart of the town of Ross, in Marin County, the school serves the students of Ross and includes sections of Kentfield and San Anselmo, which border the town boundaries. Class sizes in K-8 average less than 20 students. Ross School students reside in the Tamalpais Union High School District.
About SolarCraft
SolarCraft is one of the most trusted and experienced solar energy contractors in California. Since 1984, this certified Green Business has been providing high quality solar electrical, solar pool heating and solar water heating services to homeowners and businesses, employing licensed and certified solar installers. With more than 4,700 satisfied customers, SolarCraft is committed to Quality Design, Quality Materials and Customer Service. Your local solar energy experts, SolarCraft will make your switch to solar easy and affordable.
###