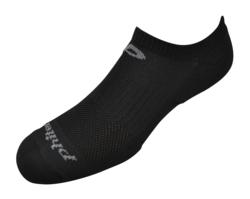 Torrance, Ca. (PRWEB) September 22, 2011
Phiten®, the innovator and original maker of the titanium necklace and precious metal-infused wellness products, introduced today its new performance line of socks, available for purchase at select Hibbett Sports and Dick's Sporting Goods locations. Phiten and Hickory also plan to expand the line into additional sporting retailers.
All socks in the Phiten performance line are designed and manufactured by Hickory Brands. Each product will incorporate Phiten's Aqua-Titanium® technology into the product materials.
The Phiten performance socks are available in either black or white in S, M, L, and XL sizes. There are four styles styles—no-show, crew, mini-crew and over-the-calf. Prices for the no-show and mini-crew styles are $8.99 USD per pair and $14.99 USD for two pairs. The crew and over-the-calf styles are $9.99 USD per pair and $16.99 USD for two pairs.
Katashi Santo, Vice President of Phiten USA stated, "Collaborating with Hickory has been a great opportunity for both brands to continue providing athletes with innovative and top of the line products."
"Our brands both share a similar focus on providing outstanding product performance for our customers. We're thrilled to be offering such a unique line and hope to expand to more retailers soon," said Josh Higgins, president of Hickory Brands.
The Phiten performance socks will also be available for purchase online at http://www.PhitenUSA.com for the 2011 holiday season.
Additionally, Phiten sports accessories and apparel products are available for purchase online at http://www.PhitenUSA.com and at participating sporting goods retailers such as Dick's Sporting Goods, Hibbett Sports, The Sports Authority and others.
About Hickory Brands®
From humble beginnings in 1923 as the Old Hickory Shoelace Company, Hickory Brands, Inc. and its 10-Seconds Division have consistently evolved into a leading manufacturer and supplier of foot care and athletic related products. We constantly strive to develop innovative designs in all of our products keeping "fit and performance" as our goal while providing outstanding quality and reliable, responsive customer service. These guiding principles have allowed us to grow in sales and service to all 50 states in the U.S. and markets in Asia, Australia, Europe, the Middle East and South America. For more information, please visit http://www.tenseconds.com.
About Phiten®
Phiten products are worn by elite athletes and enthusiasts all over the world in promoting your good health, energy and well-being. Headquartered in Torrance, Calif., Phiten shops are located in Seattle, Torrance and Honolulu. Phiten products are available at retailers across the nation, particularly sporting goods. For more information, please visit http://www.PhitenUSA.com.
# # #