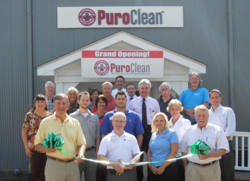 "When it comes right down to it, delivering excellent customer service is a value proposition that typically results in a self-fulfilling prophesy for any business."
Raleigh, NC (PRWEB) September 23, 2011
The Fastest Growing Property Damage Restoration business in the Carolinas, PuroClean Property Rescuers NC (PPR-NC), is now poised for future growth. Resulting from its record setting performance over the last two years, PuroClean has just doubled its capacity after relocating its corporate headquarters to 405 East Broad St., Suite 151 in Fuquay-Varina, NC.
PuroClean Property Rescuers NC, which is a local, family business, owned and managed by Kevin Oakley are Certified Insurance Claim Experts that deliver guaranteed 24/7 Emergency Property Damage Restoration directly to its customers. This business seamlessly works with all Insurance Companies including: State Farm, USAA, Erie, Grange, AMICA, Allstate, NC Farm Bureau, Nationwide, Travelers, QBE, Chubb, The Hartford, Liberty Mutual, Auto-Owners, Brotherhood Mutual and Central.
"We are totally independent and do not have behind the scenes preferred vendor, or third party administrative arrangements with anyone. Such business practices are typical of virtually all traditional insurance claim service providers, but unfortunately have significant downsides for those that actually receive such services. This practice is a dying business model that is neither competitive, nor conducive to delivering the end customer with the highest level of service deserved in consideration of the years of premium payment investments made", says Oakley.
"Our customer's consistently state that the key to our success and the reason they request PuroClean by name when they call their Insurance Agency (vs. the 800-CLAIMS-LINE), is that we do not work for any specific Insurance company or third party Claims Service Management Company, but instead we work for them while still lowering the Insurance company's claims/loss ratios (a true win-win scenario). When you think hard about it, has anyone ever bought anything, or negotiated any business deal with a biased third party (slanted toward the seller) and have it work out very well for them? In fact, when has the additional of any third party to any transaction ever reduced the price of anything? In our case, PuroClean is in business for the long term and our allegiance lies with all of the parties' involved," says Oakley. "Unfortunately, when you come home to a foot of standing water in your home, it's tough to think this process through. We are changing this paradigm, one very satisfied customer at a time," Kevin Oakley says with a smile. "When it comes right down to it, delivering excellent customer service is a value proposition that typically results in a self-fulfilling prophesy for any business."
For more information about PuroClean Property Rescuers NC or for advice on proactive preparation related to property damage or next step direction when faced with property damage, please contact Kevin C.Oakley at 919-762-3100 or kevin(dot)oakley(at)puroclean(dot)com.
About PuroClean Property Rescuers NC
PuroClean Property Rescuers NC (PPR-NC), serving Wake County NC and surrounding areas are Certified Insurance Claims Specialists focusing on property emergency services and can help homeowners overcome the devastating aftermath of property damage caused by water, fire, mold and other conditions that delivers guaranteed 24/7 Emergency Property Damage Restoration directly to its customers. When the damage is caused by water – whether from an indoor leak, flooding, or violent storms – PuroClean technicians work quickly, professionally, and in accordance with ACAC, IICRC standards and the BBB practice while delivering Best in Class customer services. It is a local, family business, owned and managed by Kevin C. Oakley, a proven business leader with over 30 years of start-up and corporate business experience. PPR-NC is a franchise in good standing with PuroClean (PuroSystems, Inc), Tamarac, FL (see below). For more information on PPR-NC, please contact (866) 970-PURO (7876) or visit: http://www.ppr-nc.puroclean.com.
###