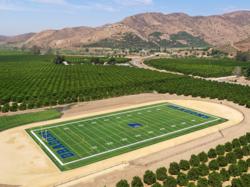 This project is more than just a football field ... It represents hope
Escondido, California (PRWEB) September 23, 2011
San Pasqual Academy and the Rivers of Hope Foundation will host a monumental ribbon cutting ceremony on Monday, September 26 to celebrate the completion of the school's very first football field featuring the Matrix synthetic turf system installed last month by Hellas Sports Construction.
San Diego Chargers Quarterback, Philip Rivers has supported San Pasqual's cause through his own Rivers of Hope Foundation with the mission of helping unwanted, abandoned and orphaned children find permanent loving homes. Rivers states, "This project is more than just a football field. It represents hope for these kids that have known so much disappointment in their lives. To have that home stadium and those fans in their corner gives them a sense of pride and purpose that can't be measured."
San Pasqual Academy, the first residential education campus for foster youth in the nation, was created to address the needs of San Diego County. The Academy's long-standing dream of building a football field for it's underserved students has now become a reality.
"Ten years ago a regulation football field for San Pasqual Academy was an unaffordable luxury but something I insisted we keep in the plans," said County Supervisor Ron Roberts. "Now, thanks to the support of Philip Rivers, Quentin and Alicia Jammer, the NFL and so many others, the Field of Hope is real and our students can experience the excitement of home football games."
The Matrix turf system chosen for the Field of Hope is a technologically advanced product comprised of two monofilament (spinneret) yarns that are manufactured in different sizes, shapes and colors. This configuration creates the best traction and system stability possible, and under stadium lighting the color combination provides excellent light deflection. The backing and high strength coating provides an unparalleled tuft bind. Its durability and playability is highly superior.
Hellas Sports Construction managed the extensive site work, sub base construction, creation of a major drainage foundation and installation of the advanced Matrix turf system from beginning to end.
Several high-profile clients have also utilized the Matrix turf system including the Dallas Cowboys Stadium, various North American collegiate fields and multiple California high schools including Orange Glen High School, Santa Monica High School, San Pasqual High School, The Language Academy and Escondido High School.
About Hellas Sports Construction
Headquartered in Austin, TX, Hellas is one of the largest sport contractors in the United States. While specializing in the general construction of sports facilities and synthetic surfaces, Hellas also provides turf manufacturing, base construction, field, track and tennis installation and maintenance. Notable clients include the Dallas Cowboys Stadium, the Cotton Bowl, Baylor University, Idaho State, the Alamodome and Northern Arizona University. Hellas controls all business processes to take its products straight to the end-user including marketing, sales, quality control and project management. For more information visit HellasSportsConstruction.com.
###