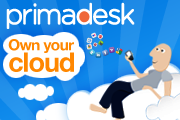 Drag and drop photos from one service to another.
Novato, CA (PRWEB) September 23, 2011
Selected by Citrix Systems as its first funding commitment for the Citrix Startup Accelerator, Primadesk is a leading provider of personal content management solutions. Primadesk enables users to search, manage, and protect online accounts with one simple interface, no matter where the documents or photos are or what device is used.
The new Primadesk mobile app lets users manage all their online photos. Users can copy photos between Facebook, Google+, Picasa, Photobucket and others from one location while on the go from their mobile smart device — all with a single login.
"We make it simple for anyone to manage their online content," said Srinivasa (Venky) Venkataraman, founder and CEO of Primadesk. "With Google+ now open to the public, we have a solution for users who want to move their photos from Facebook to Google+. Of course, we continue to support the other popular online services as well, with the ability to easily search and manage your entire content across services."
"When we launched the Startup Accelerator program just nine months ago, we expected our seed investments to help place us at the forefront of industry trends, while balancing internal and external innovation. With seven – and counting – startups in the portfolio, we have had the opportunity to spur some of the hottest technologies in mobility, cloud computing and virtualization. We anticipate this growing program will not only positively impact Citrix, our customers and our ecosystem, but also the future of technology.", said Martin Duursma, VP of Citrix Labs and Chair of the Citrix CTO Office
About Primadesk
Primadesk makes online life easier to manage, enabling users to search, manage and backup personal
cloud data from anywhere, whether it is from a personal computer, tablet or smart phone. Primadesk was founded in 2009 by two entrepreneurs who recognized the growing need to make Internet‐based applications and online information secure, easier to use and to interact with. For more information on Primadesk, please go to http://www.primadesk.com.
About Citrix
Citrix Systems, Inc. is a leading provider of virtual computing solutions that help people work and play from anywhere on any device. More than 230,000 enterprises rely on Citrix to create better ways for people, IT and business to work through virtual meetings, desktops and datacenters. Citrix virtualization, networking and cloud solutions deliver over 100 million corporate desktops and touch 75 percent of Internet users each day. Citrix partners with over 10,000 companies in 100 countries. Annual revenue in 2010 was $1.87 billion. Learn more at http://www.citrix.com.
###