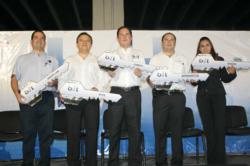 Tijuana, Mexico (PRWEB) September 22, 2011
The Tijuana EDC is paving the way for Tijuana to become a facilitator of innovation and high tech investment, by integrating new infrastructure, incentives and technical support programs available for new projects looking to increase their competitive advantage.
Baja California State Governor Jose Guadalupe Osuna inaugurated the first phase of the Business Innovation and Technology Center (BIT Center) in Tijuana. The center will be managed by CANIETI and offers over 50,000 square feet that will host in its first phase over 30 entrepreneurs, IT& software companies and developers, as well as academic and other business institutions.
Strategically located in Tijuana Baja California, 1 hour flight from Silicon Valley, the BIT center will empower a large pool of local world-class software engineering talent available in the Tijuana-San Diego region and provide the infrastructure for incubating and developing software and information technology companies at a fraction of the cost than in US.
BIT Center is the latest technological resource that is available at preferred rates through the Tijuana EDC. To help manufacturing companies become more competitive, the Tijuana EDC has integrated an incentives portfolio including federal, state and municipal government incentives, as well as private sector technology programs. This innovation ecosystem is available for investors establishing new manufacturing operations in the City of Tijuana.
The Tijuana EDC as part of its strategic plan, created its Innovation Committee and established a series of Strategic Alliances with government and private organizations to become a one-stop-shop facilitating access to resources available for companies that are developing new technology, improving their manufacturing processes or developing new materials.
The portfolio of incentives includes collaboration with the Technology Consortium of Baja California and Tijuana´s BIT Center; two innovative centers dedicated to provide engineering, lab testing and design services for manufacturing and technology companies. Through the Tijuana EDC, new companies will have access to these services at reduced costs.
This year The Technology Consortium in its first phase opened two out of five buildings that provide technological services to industry and local companies in the following areas: metrology, process automation, mechatronics, PLC´s, energy efficiency, and advanced materials research, among others. This project, which has the support of CONACYT (Mexico's Science and Technology Council), is driven by a private initiative as well as the State Government of Baja California.
In addition to these engineering services, the Tijuana EDC has agreements with the federal, state and local government that facilitate access to incentive programs, including tax reductions, as well as grant funds for innovation projects, training, and municipal infrastructure improvements. Recently academic institutions as well as companies such as Greatbach, Siliken, Honeywell, Delphi, and Foxconn among others have received incentives worth over US$ 10.9 million.
From the private sector, the Tijuana EDC signed an agreement with "Empleo Nuevo" (new employment) the leading employment search internet portal. Manufacturing companies considering establishing new operations in Tijuana trough Tijuana EDC will have access to a database of over 50,000 engineers, technicians and administrative professionals, free of charge. This service will enable companies to preview the talent and resources available in the region, as well as for hiring during the first 6 months of their set-up process.
About Tijuana EDC- The Tijuana EDC for over 20 years has helped companies from all over the world to establish successful manufacturing facilities in Tijuana, providing them access to services and resources, from Legal and Tax advice, logistics and industrial infrastructure development. These new portfolio of support will guarantee availability of technology resources, that will help companies be more competitive and sets the foundation to attract new technological investments, positioning Tijuana as an innovation hub for manufacturing and process efficiency.
###