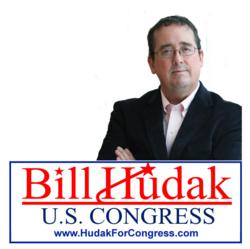 "The details in this brief are alarming concerning the breadth of the scheme and the depth of Patrice Tierney's involvement and should lead every citizen to question whether John Tierney was honest when he claimed in 2010 to 'know nothing'
Boxford, Mass. (PRWEB) September 22, 2011
Bill Hudak, http://www.hudakforcongress.com, candidate for U.S. Congress in the Massachusetts 6th Congressional District, commented today on the filing by United States Prosecutors of a Trial Brief for the upcoming October 17, 2011, illegal gambling, racketeering, money laundering, and tax fraud criminal trial of Daniel Eremian, Congressman John Tierney's brother-in-law, in which Tierney's wife, Patrice Tierney, is expected to testify.
"Congressman Tierney, who has been elected every two years from 1996 to date, has to have more knowledge than he led everyone to believe before the 2010 election, because apparently the whole Eremian family, including Patrice Tierney, her son John Chew, her brothers, and her father, were involved in a widespread and regular scheme, some for decades, which affected John Tierney's family finances directly," Hudak said.
"Patrice Tierney avoided the possibility of a maximum penalty of 12 years in prison and a $400,000 fine concerning her involvement in the scheme by reaching a plea bargain agreement on September 20, 2010, agreeing to plead guilty to aiding and abetting tax fraud and cooperate with authorities, before the public even became aware of her involvement," said Hudak. "The deal was negotiated behind closed doors, was originally sealed from public view expressly to avoid publicity, was opened on October 4, 2010 with a guilty plea made within 24 hours, and Congressman Tierney himself then took charge of all public announcements concerning his Wife," Hudak continued. "One has to wonder if her upcoming testimony is part of the arrangement," he said.
The brief, filed in United States of America vs. Todd Lyons and Daniel Eremian, Criminal Case no. 10-10159-PBS, with the Massachusetts Federal District Court, contains a description of an extremely large, in fact "daunting," illegal gambling operation covering decades and tens of millions of dollars in laundered funds.
The racketeering enterprise, prosecutors say, was owned and operated by Patrice Tierney's brother, Robert Eremian, who commenced the business from his Lynnfield, Massachusetts home in the 1980s, involved Patrice Tierney's other brother, Daniel Eremian, who solicited business from his bar known as "Brodie's Pub" in Peabody, Massachusetts, and then, in the wake of law enforcement investigations in the late 1990s, moved offshore to Antigua where it continued to operate in Massachusetts and other states under the name Sports Off Shore ("SOS").
Prosecutors claim the enterprise collected somewhere between $32 million dollars and $44 million dollars from SOS gamblers from 1997 through 2005, with agents receiving between 25% and 50% as commissions. Their brief describes a massive conspiracy involving use of Federal Express to ship cash in "six packs," namely $6,000 cash bundles, to avoid detection, and use of fictitious names and accounts to wire transfer and launder the money.
Prosecutors add that Robert Eremian provided his brother Daniel $500,000 to buy and maintain a helicopter, indicating it was subsequently seized by the IRS pursuant to a civil forfeiture warrant.
Calling the enterprise "truly a family affair," U.S. attorneys charge that in addition to the Eremian brothers, Patrice Tierney herself, from 2003 – 2009, managed a $10 million dollar Bank of America account funded by some of these wire transfers from Robert's offshore Antigua account, while her father Robert G. Eremian (until his death), and her son, John Chew, were also employed in the scheme.
Prosecutors describe Patrice Tierney's role as the person who managed Robert Eremian's finances in the United States out of the Bank of America Salem, Massachusetts, branch near the Congressman's home, including her use of the money laundering account to disburse the $10 million dollars to pay Robert's credit card bills, real estate taxes, income taxes, property maintenance expenses, and to distribute funds to members of his family, including Patrice Tierney, her mother and Robert's wife and children.
Prosecutors in the brief relate that Patrice "routinely accessed" this account for approximately $20,000 per annum for herself. These statements add to statements they made earlier in 2011 during Patrice Tierney's court hearing, where she was ordered to serve time in prison for tax fraud, that Mrs. Tierney also received money from her brother to pay for her Volkswagen Beetle and cell phone.
"The details in this brief are alarming concerning the breadth of the scheme and the depth of Patrice Tierney's involvement and should lead every citizen to question whether John Tierney was honest when he claimed in 2010 to 'know nothing,' to suggest that his wife had been 'duped', and pressed to quickly sweep this matter under the rug," commented Hudak. "If you believe that, you have to question whether he is married to the same 'Patrice Tierney' identified in this brief," he said. "This scheme was integral to Patrice Tierney's family's lives the entire time Congressman Tierney knew her, including times when the law required that he be aware of her relationship to her family and their mutual finances," Hudak charged.
"To trust the Congressman, you must also believe that for over 15 years, before 1997, when Mr. Tierney was dating Patrice, was running for Congress, and his brother-in-law's house was being raided, and after their marriage in 1997, including the 1997 through 2002 period during the government's 'widespread investigation' which resulting in Robert Eremian's conviction for income tax evasion, that Mr. Tierney never spoke with his wife about money, never met or discussed any of her family, was never home when prosecutors and investigators came calling, never rode in her car or questioned how she was paying for it, never called her on her cell phone, and never discussed family finances at all, ever, under any circumstances," he concluded.
"Patrice Tierney had to talk to her husband about money; she certainly couldn't pay the family bills, mortgage, or for her car on the $4,000 she claimed she earned in 2006 from her small jewelry business, so that money had to come from this illegal enterprise or the Congressman's salary, both requiring discussion," he suggested.
"Even more disturbing, the Congressman was required by law to inquire of his wife and disclose the $20,000 annual payments prosecutors say she received working for the business, but he never once during from 2003 through 2009 included that information on his required annual Financial Disclosures which he signed under oath and filed with the Congress," Hudak commented. "So, too, the Tierney's were required to report this income on their joint income tax returns, and the Congressman has been conspicuously silent on that subject and has failed to produce those returns despite request," he remarked.
"In 2010, we called upon Congressman Tierney to disclose his involvement in what was then only reported as a $7 million dollar scheme; now that we know it approaches $44 million dollars, at least, and that his wife was paid for her role and was the key United States financial manager, we do so again," said Hudak. "And this time we ask for full disclosure for the years 2003 through 2009, including the Bank of America statements and all checks written on that account, plus disclosure of John Tierney's income tax returns to verify his family claimed this income on their taxes and paid their fair share," he insisted.
"We'll watch the events unfold during this trial, anticipating there's even more detail to come," said Hudak. "With all the cash transactions reported in the trial brief, it is clear this is only the tip of the iceberg," Hudak concluded.
"Patrice Tierney was convicted and served time in prison for being willfully blind; perhaps that is a family affair too," Hudak quipped, "but Congressman Tierney's indifference to, or willingness to accept and by his silence support, his family's racketeering business offers some insight into whether he is competent to uphold the Constitution and laws of the United States or to vote on the nation's finances during these exceptionally troubling economic times."
Bill Hudak may be reached through his website, http://www.HudakforCongress.com, or his law office located in Saugus, Massachusetts.
ABOUT BILL HUDAK
Bill Hudak, http://www.hudakforcongress.com, candidate for U.S. Congress in the Massachusetts 6th Congressional District, is a practicing attorney with more than 28 years of experience. Licensed in Massachusetts, New York, North Carolina and Florida, as well as in multiple Federal District Courts and the United States Supreme Court, Bill's consumer advocacy efforts have earned him a reputation as a lawyer practicing with "truth, honor and integrity." Bill is a hard worker and tireless campaigner who in his first bid for Congress in 2010 received over 43% of the vote, tallying the second highest number of votes of any Republican Congressional candidate in Massachusetts since 1996, and intends to fight hard to receive the 7% additional votes needed to win in 2012. A 26-year resident of the 6th Congressional District in Massachusetts, Bill is running for office to help restore this nation's prosperity and growth for our future generations. Click here to read more about Bill.
For more information about Bill and his campaign to bring common sense to the U.S. Congress, visit http://www.hudakforcongress.com and join us on YouTube, Facebook and Twitter.
###