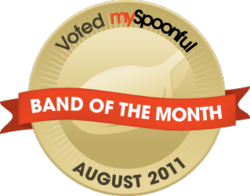 This months poll was especially heated with a number of bands receiving record amounts of votes.
San Francisco, CA (PRWEB) September 22, 2011
mySpoonful announced today The Amarylas is the winner of the mySpoonful "Band of the Month" poll. Three times a week, mySpoonful handpicks a single new artist that music fans should know about, and includes a free MP3 for listening or download in their weekly e-newsletters. Every month, the mySpoonful audience can now vote on their favorite band that month. The band with the most votes is announced the winner. The Amarylas and songs featured on their latest demo CD takes first place in August '11, and a new poll is now underway for September '11. The poll begins the first of every month and runs through the 15th of the following month. The winner is announced the third week of the following month.
A classic sound with Victorian-inspired lyrics and an undeniably modern sensibility, The Amarylas are a London, England-based quartet consisting of Luke J. Segura (vox/guitar), Joe Mashiter (guitar), Sarley Najib (bass) and Jon Mynette (drums). With lilting vocals and gritty instrumentation, these glam troubadours deliver tunes that are both uplifting and trippy. Perhaps the most compelling feature of The Amarylas is that they manage the rare feat of being quirky without being pretentious. They're complicated enough to be listened to through full-can headphones in a black-light lit dorm room, and vibrant enough to be enjoyed through crackling speakers in a tightly packed London club. Regardless of how you might experience them, The Amarylas are an emerging band to keep your eye on.
As winner of the "mySpoonful Band of the Month" poll, The Amarylas receives an additional Featured Artist email announcing them as the winner, promotional tools including a 1-year Pro ShareSquare account and a 6-month Supersonic subscription to Sonicbids, and an online plaque highlighting them as the people's choice for that specific month.
Amos Schwartzfarb, mySpoonful cofounder, comments, "This months poll was especially heated with a number of bands receiving record amounts of votes." Schwartzfarb continues, "what's especially exciting about that, is the voting process itself is a promotional tool and therefore all these great bands are getting tons of exposure."
About mySpoonful
mySpoonful features independent music from a variety of genres, including rock, pop, hip-hop, electronic, folk and more, with a focus on new artists that are outside the mainstream. mySpoonful's team of insiders, curators and tastemakers does all of the work of finding new music, sifting through thousands of bands and musicians and carefully selecting featured artists.
Each spoonful features an up-and-coming artist and contains a free song download, an artist photo and an original bio from mySpoonful's team of writers. In addition, if a fan wants to learn more, each spoonful provides a video, links to other bands readers may like, live performance listings and a link to buy more music.
The mySpoonful founding team includes music and Internet veterans including Dan Cohen, Stacy Horne, and Amos Schwartzfarb. The team's impressive track record and music and digital media credentials includes creating and leading several successful startups, work at Yahoo, Google and Business.com, and producing and vetting talent for premier independent music events and festivals such as CMJ Music Marathon, Noise Pop, and the Treasure Island Music Festival.
For more information, please visit http://mySpoonful.com.
Additional Prizes for the mySpoonful "Band of the Month" Contest are provided by:
Sonicbids is the leading matchmaking site for emerging bands and music promoters, with a mission to empower the Artistic Middle Class by helping bands find, apply for, and get gigs. Since its launch in 2001, Sonicbids has become the de-facto standard for submitting music to events and opportunities around the globe, including mySpoonful. In 2010, bands and artists using Sonicbids booked close to 80,000 "gigs" through the site.
ShareSquare focuses on bridging the divide between offline and online by using smartphones as the catalyst to connect people's passions with immediate calls to action and engagement. ShareSquare's solutions leverage QR Codes, HTML-5, and the native browser on a mobile device to deliver a compelling social, local, and mobile app experience from any smartphone.
# # #