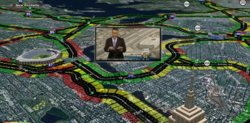 The latest version of Beat the Traffic 3D has the potential to make the traffic segment one of the more compelling and anticipated portions of the news
Santa Clara, CA (PRWEB) September 22, 2011
Triangle Software LLC, d.b.a.Beat the Traffic®, the fastest-growing provider of vehicle traffic reporting solutions for media in North America, will demonstrate the latest version of its award-winning Beat the Traffic 3D product at the 2011 SPJ/RTDNA Excellence in Journalism Conference in New Orleans, Sept 25-27. Among the groundbreaking features included in Beat the Traffic 3D version 6.2 are live traffic information on surface streets, embedded video of traffic conditions, and real-time road speeds utilizing Beat the Traffic's unique SpeedTips™ technology.
Just in time for the conference, Beat the Traffic 3D features a brand new traffic incident feed that allows on-air reporters to click on the latest traffic event, "fly" directly to the incident on a map, and provide viewers with all the relevant details – including video and current traffic speeds. Recent traffic incidents can be highlighted and details about each incident can be edited as well.
Compatible with Windows 7 USB touch screen TVs, Beat the Traffic 3D allows broadcasters to create a completely immersive, interactive and detail-rich portrait about traffic conditions to their viewers at any time of day. By navigating Beat the Traffic 3D on air via touch screen or Wii remote, newscasters can zoom in and out of traffic hotspots, link directly to on-the-scene footage through an SDI video camera integration, calculate travel times between distances, and scroll over roads to display current traffic speeds and road conditions – including delays, accidents and roadway construction. Newscasters can even set up animated "fly through" displays of Beat the Traffic's high-resolution, topographical maps for a more captivating viewer experience.
"The latest version of Beat the Traffic 3D has the potential to make the traffic segment one of the more compelling and anticipated portions of the news," says Andre Gueziec, President and CEO of Triangle Software, the company that operates Beat the Traffic. "By incorporating exciting visuals, on-location video and traffic data that is steeped in detail – and always available in real time – Beat the Traffic allows broadcasters of all sizes to transform traffic news into 'wow TV.'"
Beat the Traffic's presence at SPJ/RTDNA 2011 comes at a successful time for the Santa Clara based company. It recently wrapped up its most successful quarter since launching in 2005 with the addition of five new TV and major media affiliates for the month of August alone. Already used by 55 North American TV and media affiliates, Beat the Traffic 3D last month was adapted for the international market.
At SPJ/RTDNA 2011, Beat the Traffic's 3D Presentation software will be on display at Booth #300.
About Beat the Traffic
Based in Santa Clara, California, Beat the Traffic® is the fastest growing provider of vehicle traffic reporting solutions in North America. Over one million motorists throughout the U.S. and Canada have downloaded Beat the Traffic's mobile applications, and the Beat the Traffic 3D system and software is currently used by 55 television stations, cable providers, and newspaper groups for on-air, online and mobile traffic reports. Acclaimed for its visually-striking graphics, simple setup and user-friendly interface, Beat the Traffic is a recipient of the TVTechnology STAR Award as well as Television Broadcast magazine's Top Innovation Award. As the only independent provider in the industry, Beat the Traffic has sustained its rapid expansion via media affiliates by maintaining a relentless focus on technical innovation and state-of-the-art data modeling, coupled with the tools, service, and personalized attention the media needs to deliver a distinguished product in an increasingly "me too" environment. Triangle Software LLC, the parent company of Beat the Traffic, is a National Science Foundation funded early innovator in traffic prediction and presentation science. Beat the Traffic technology is protected by U.S. Patents Nos. 6,989,765, 7,161,497, 7,221,287, 7,375,649, 7,508,321, 7,557,730, 7,610,145, 7,702,452 and 7,880,642 and other pending patents. For more information visit http://www.beatthetraffic.com or http://www.trianglesoftware.com; watch our videos at http://www.youtube.com/beatthetraffic; or follow us on Twitter at http://www.twitter.com/btt3d.
PRESS CONTACT:
Andre Gueziec
408-777-6537
andre(at)beatthetraffic(dot)com
###