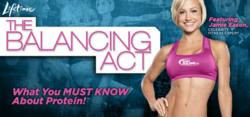 "Nearly all women struggle to find the time to eat the healthy way and work out. They also struggle to stay motivated... How can you stay focused and in charge? I want to help show you how." - Jamie Eason
Boise, ID (PRWEB) September 22, 2011
Jamie Eason, celebrity fitness expert and Bodybuilding.com Spokesmodel, continues to show her expertise by joining hit morning TV show, Lifetime's "The Balancing Act" on September 26, 2011 at 7:00 a.m. ET/PT. As a featured guest, Eason will address leading health and fitness issues the majority of women face – staying motivated to live a healthy life and getting enough quality protein in their daily diet.
"Nearly all women struggle to find the time to eat the healthy way and work out. They also struggle to stay motivated. It can be tough to keep your health-and-fitness goals front of mind when life's responsibilities always seem to be distracting you. How can you stay focused and in charge? I want to help show you how," shares Eason.
Jamie Eason is one of the most recognized faces in the fitness industry, as spokesmodel for the Internet's most-visited bodybuilding and fitness site and largest online retailer of nutritional supplements, Bodybuilding.com. She holds several fitness titles, most notably Hardbody Entertainment's World's Fittest Model, and has appeared in hundreds of magazine layouts. Most notably, Eason has some of the most devoted fans and followers out there; her Bodybuilding.com LiveFit 12-Week Trainer (free online transformation program) has received almost 2 million visits in one month alone.
With Jamie Eason's featured guest spot on "The Balancing Act" her fan base and credibility as a celebrity fitness expert will only continue to grow. The Telly Award (premier award honoring outstanding cable TV programs) winning show, "The Balancing Act", is America´s only one hour morning show that´s about women, for women, and trusted by women. The show empowers viewers with entertaining and educational information – helping women achieve success in every area of their lives. As a guest on "The Balancing Act" Jamie Eason will be joining the likes of Mario Lopez, Kim Kardashian, Brooke Burke and many more.
For more information on Jamie Eason and her feature segment on "The Balancing Act", go to http://bit.ly/TheBalancingAct.
Bodybuilding.com offers more than 13,000 health & fitness supplements and accessories to help more than 7.5 million people every month achieve their health, fitness and appearance goals, as well as more than 35,000 pages of free information, including more than 20,000 articles and videos, expert online trainers, and new content added daily.
For more information: http://www.bodybuilding.com
Contact: Crystal Matthews
Email: crystal(at)bodybuilding(dot)com
Phone: 208.472.9311
###