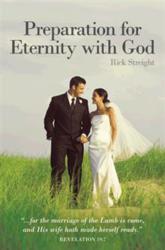 Aberdeen, MD (PRWEB) September 24, 2011
In Paradise Lost, John Milton wrote, "The mind is its own place, and in itself can make a heaven of hell, a hell of heaven." In an effort to guide Christians to spiritual fulfillment, Christian author Rick Streight uses a similar tone in his new book, Preparation for Eternity with God (published by WestBow Press), taking a detailed look at Bible scripture to reveal an inspirational message of hope and happiness to readers.
An excerpt from "Preparation for Eternity with God":
"Dear brethren, have you allowed God's Word to accomplish what it pleases in you? Are you bringing every thought into conformity to the Word? Have you allowed the Word to change your desires? What about your speech? Have you experienced victory over anger, impatience, and gossip? When you get up each morning, do you pray? By faith, do you take up your cross and follow the meek and lowly Jesus? May we not compromise our Christian standards for the standards of the world. Peer pressure is strong, but our Love for Jesus must be stronger! Believe and trust our Creator; He brings out the best in all of us!"
Drawing heavily from Bible quotes, Streight delivers Preparation for Eternity with God, a book written to guide readers to a loving relationship with the Heavenly Father.
About the Author
Rick Streight was born into a family torn apart by a divorce having lasting negative side effects, including a life of struggling with insecurity. When he was 12 years old, his father died at just 36 years old as a result of a motorcycle accident, leaving Streight without a father-figure to guide him into manhood. However, when Streight found God, he found the most important role model he would ever need. Since then, he has devoted his life to being a faithful witness to non-believers and to helping other Christians to grow in their faith. Streight loves nature, and enjoys walking trails, kayaking, and collecting rocks and minerals from mines and quarries.
WestBow Press is a strategic self-publishing alliance of Thomas Nelson, the world's premier Christian publisher, and Author Solutions, Inc. (ASI)—the world leader in the fastest-growing segment of publishing. Through this partnership, authors benefit from the rich publishing heritage of Thomas Nelson and the speed-to-market advantages of the ASI self-publishing model. Titles published through WestBow Press will be evaluated for sales potential and considered for publication under the Thomas Nelson imprint. For more information, or to start publishing today, visit westbowpress.com or call 866-928-1240.
###