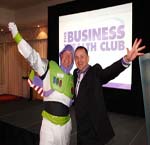 Even Buzz Lightyear dropped in to the event!
(PRWEB) September 24, 2011
Some 227 positive and passionate small business owners kicked off the "Back to Business" week after the Summer Holidays by attending the two Training, Networking and Mini Exhibition meetings in Oxford and Reading.
Reading Club Mentor Steve Plotkin hosted the event and got Members Up Sharing their wins and Marketing Messages with the room to kick off the first session. Award Winning Business Coach and CEO Paul Avins then stepping up to run a Profit Boosting 30 minute Workshop teaching practical how to strategies to help the local business owners boost their Sales.
It's this Unique mix of Blended Training, Coaching and Member Support that creates such a "buzz" in the local business community after meetings.
Over the coffee break members and visitors networked and discussed potential Joint Ventures in the Mini Expo area, another powerful component of the Open Day format.
The Main 1 hour Workshop was delivered by the guest Speaker from Canada, Michael Losier on how to harness the power of the Law of Attraction to Attract more Sales, Customers and Profits into a Business, whatever the economy is doing. This was packed full of great distinctions, interaction and Positive Vibes, with the whole audience leaving the event energised and ready to take on the world.
After the Main workshop session, the Members met for a Private Q & A Session with Michael and this was when the deep learning took place. Michael poured his heart out for well over an hour, answering question after question on how to Allow, how to Identify Limiting Beliefs and why Dream Boards Don't work, as well as some sneak peeks into running his radio show and working with Oprah for the last few years….well he did like to name drop!
Talking of name dropping - even Buzz Lightyear dropped in to the event! Oxford member Alan May showed that Business "Can be Fun" and his 30 second presentation was met with rapturous applause.
16 New Members took Action at the events to secure their place at their local club as their were 6 to choose from, St Albans, Reading, Oxford, Maidenhead, Newbury and Northampton. One new member lives in Switzerland and wants to travel to the UK every month until a club opens there!
###