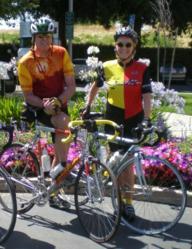 It is a great event itself- great cause, great food, and great venue. It is a incredible networking opportunity too. It is a nice feeling to do things for others.
Napa Valley, CA (PRWEB) September 22, 2011
There are many reasons why people decide to volunteer their time for a cause or charitable organization. For some, it is the result of a personal experience. For many, it is an inner call to action to make the world a better place. But whatever the reason, their commitment and dedication makes a critical difference in the mission of non-profit organizations. Sometimes, those efforts can turn into inspirations for others to do the same.
Amyotrophic Lateral Sclerosis (ALS), also known as Lou Gehrig's disease, is a devastating, fatal neuromuscular disease. Every 90 minutes someone is diagnosed with ALS and every 90 minutes someone loses their life to the disease. The financial cost to families facing ALS can be over $200,000 per year. In 2001, Bonnie Pybus and Peter Franklin decided that they wanted to do something after losing Bonnie's mother, Dorothy, to ALS. They became involved with the local chapter of The ALS Association and created a team for their Walk to Defeat ALS called "Dottie's Guys & Dolls" in her memory. But they knew that they wanted to do more. Their shared passion to help others facing this disease, combined with Pybus' sixteen years of experience directing cycling events for another charitable organization, became the genesis of "Ride to Defeat ALS". They began reaching out to friends and colleagues, to enlist them in their efforts.
"I have known Bonnie and Peter for the better part of twenty-five years. So I first joined the ride in 2004 as a participant," said John Grcina, President of RN Field Construction. "Bonnie and Peter then asked if I would be interested in helping to develop the 100 mile route. I then started learning more about ALS, and what a horrible disease it is, not only for the person facing it, but for the entire family," Grcina said.
"My first ride was also in 2004," says Janet Hittle, an associate principal landscape architect in The Guzzardo Partnership. "My sister was diagnosed with ALS earlier that year. Her father-in-law was also diagnosed. They are both gone now." Since then, she has served as a co-captain of a team riding in their memory. "I am not sure exactly how long I have been on the ride committee, but I was pleased to sign on when I was asked."
Kambia Moezzi, Retail Consultant based in the San Francisco Bay Area, began working with her sister-in-law, Jennifer, as rest stop support in 2008. Besides enjoying the gorgeous location, she found the riders themselves inspiring. "You could feel the community of support for those facing ALS and the appreciation for each other in helping," she said. Early the next year, she was invited to join the committee. "I didn't realize what I was getting myself into, but they seemed to need the 'helping hands'". By the second year, Moezzi ran a rest stop herself and took on soliciting food donations, reviewing documents, preparing raffle boards, and being on hand to handle whatever was needed.
"Peter was gathering volunteers," shares Dennis Latta, Construction Manager, at The Pyramid Center, who worked with Franklin with for four years. "My technique to avoid it was to join as a rider." Latta trained for the 2009 Ride for the 10 mile route son a stationary bicycle at home, but was quite surprised by the difference in the experience when he was outside for the event. "The ride itself was so much fun," Latta shared "It was the start of my cycling addiction." By 2010, he was riding the 100 mile route, which he is planning to repeat this year. "I feel indebted to the event for inspiring me to become a cyclist," Latta shared.
"I first learned about the disease and the Ride in 2009, thanks to the tenacious prodding of Mr. Franklin", said John Bozeman, Legislative Assistant, Government and Public Affairs for Building Owners and Managers Association (BOMA) of San Francisco. He joined as a rider in 2010 on the 10 mile route. Bozeman was asked to join the ride planning committee in 2011. "Once I joined the committee, I decided that it was time to be even more involved in fighting ALS", Bozeman said. This year, he is participating in weekly training rides on the "Paradise Loop", from San Francisco to Marin County and back, and will personally be riding the 60 mile route.
What keeps each of these volunteers committed is a both a sense of camaraderie and social responsibility. "We all share our varied insights and business skills to pull this off," said Moezzi. "Everyone plays a role in the Ride's success." "People with ALS don't have the hope that they can be cured once they are diagnosed. They deserve to have that" Bozeman said. "I feel lucky because I know about ALS through not losing a loved one to it," says Latta.
To date, the Napa Valley Ride to Defeat ALS has raised over $2 million to support the mission of The ALS Association thanks to the vision of Bonnie Pybus and Peter Franklin and the contributions and tireless efforts of these highly-accomplished construction, financial and business professionals. But, all involved recognize that this success is a fragile state to maintain, and can only be sustained if others are inspired by their efforts and join them.
"It is a great event itself- great cause, great food, great venue," says Latta. "I tell my work colleagues-it is a great networking opportunity too. It is a nice feeling to do things for others."
"It is a wonderful experience. With so many talented and committed people are involved, it is both rewarding and fun. I know I am doing something positive against such a terrible disease" shares Hittle.
"As I continue my involvement with the Ride, I am constantly meeting people that have been touched by the disease in some way," says John Grcina. "So what started out as a form of recreation has turned into an emotional commitment to help those that are currently dealing with ALS, or might be dealing with it in the future."
"I see the beauty of the soul, shining in the faces, actions, and voices of those fighting ALS." said Moezzi. "I see it in those who love and support their family members and friends. You might see their sadness, but so often underscored with determination. It is the prioritization of life and the understanding of the splendor of each individual person. If we keep this up, we not only help to make daily life better through the clinics and support services, but also through funding of the research to figure out what causes this damn thing, and we can work to stop it."
"I challenge everyone that is their civic duty to volunteer somewhere. Meet someone touched by ALS and try not to do something to help." said Bozeman.
"I have been a rider all my life, although it hurts sometimes as I advance in years" shared Franklin. "But it's easy to forget the pain when I focus on the serious challenges of those facing ALS, who manage still to exude fortitude and hope. I concentrate this Ride. It is their vehicle. I am trying with every sinew in my being to drive it straight to a cure".
Pybus adds, "It has been my mission to bring an end to this relentless, indiscriminate disease. It will take money, research, and constant determination to bring us to a cure. I will stay that course, however long it may take. But my hope is to make the journey to get there shorter".
These passionate men and women are the unsung heroes of people with ALS and their families.
The 2011 Napa Valley Ride and Walk to Defeat ALS will be held this Saturday, September 24. It is a fundraising community event that creates the hope and action needed to conquer Lou Gehrig's disease. Originating at the Yountville Veteran's Home, the Ride is open to the public, offers four different cycling routes and one walking route. All funds raised will support the mission of The ALS Association Golden West Chapter.
The ALS Association is the only national not-for-profit health organization dedicated solely to the fight against ALS. Our mission is to lead the fight to cure and treat ALS through global cutting-edge research, and to empower people with Lou Gehrig's disease and their families to live fuller lives by providing them with compassionate care and support. To learn more about the Napa Valley Ride and Walk to Defeat ALS, please our website.
###