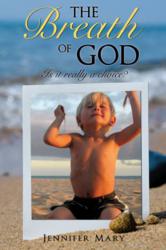 God is the one who gives breath to you and me and to our children
Longwood, FL (PRWEB) September 24, 2011
In 1977 a scared teenaged girl—author Jennifer Mary—chose to give her unborn child the chance to live. That unborn child was her daughter, Sarah Ann. She did not plan to become a mother at age 16. She searched herself, her heart, her faith. She had all the reasons to end her unborn daughter's life with abortion, and still she did not. Her choice continues forward toward the future. That scared 16-year-old girl has become a grandmother again, and in The Breath of God ($10.99, paperback, 978-1-61379-722-8; $17.99, hardcover, 978-1-61379-723-5; $5.49, eBook, 978-1-61379-670-2), a stunning new book from Xulon Press, she tells her story in the hope that it will help pregnant teens and women make the choice for life.
"I want readers to know that abortion kills a baby and also causes mental pain for the mother and father who aborted their baby," the author says. "They will see abstinence is best!"
Although this story was a difficult one to write, the author was commanded by God to commit it to paper. Once she obeyed His mandate, He opened all the doors and brought her through her pain. He also put people into her life who loving helped her deal with these past experiences. "I give God all the praise and glory for it was He who spoke to me to write The Breath of God," she explains. "God is the one who gives breath to you and me and to our children."
Jennifer Mary currently resides in Pembroke, Massachusetts.
# # #