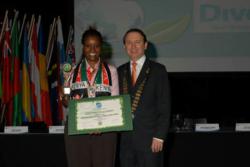 (PRWEB) September 23, 2011
We are delighted to announce that Gamewatchers Safaris have won the prestigious "Tour Operators and Travel Agents" category at the Skål International "Sustainable Development in Tourism" Awards held in Turku (Finland), on the 19th September 2011. The award was presented to Gamewatchers Safaris by the President of Skål International, Tony Boyle and was announced by Director of Communications & PR, Karine Coulanges. Gamewatchers Safaris were honored to have received such a prominent award particularly as it recognized their contribution and support of tourism development in Kenya through community owned wildlife conservancies and their Porini Camps concept.
The Skål International award ceremony was founded in 1934 and it is the largest organization to presents its awards for travel and tourism professionals to organizations around the world; across five continents, 90 countries and at over 500 locations with 20,000 members from a variety of travel organizations. This ceremony is known to be the only association that embraces all sectors of the travel and tourism industry. Having received such strong support, this significant award attracted a total of 417 entrants across 18 different countries which included entrants not only from Africa but across Europe, Asia, North, South and Central America; Naturally Gamewatchers Safaris were very proud and honored to have been selected as the winner.
This exceptional award was received on behalf of Gamewatchers Safaris and Porini Camps by Lucy Makumbi- Macridis. Jake Grieves-Cook, the managing director at Gamewatchers Safaris stated, "We are very pleased to have won the Skål International Award for Sustainable Tourism Development for our support of community-owned wildlife conservancies in Kenya and our Porini Camps concept. We believe that conserving wildlife habitat and working with the communities who own the land adjacent to national parks and reserves offers a great opportunity for tour companies to develop a sustainable form of tourism which protects the environment and creates income and livelihoods for local people while at the same time giving tourist visitors a worthwhile and rewarding experience."
Gamewatchers Safaris has been a leading Kenyan Wildlife Safari operator for over 20 years, operating off a principle of sustainable tourism. Competing with other extremely qualified tour operators, Gamewatchers Safaris were able to distinguish themselves and were privileged to receive this award.
For more information on Gamewatchers Safaris, please visit http://www.porini.com/ to find out what Kenya Safari holidays are available.
###