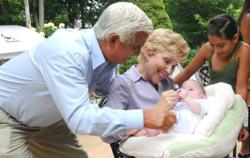 ...it was seen that most baby seats do not promote the feeding of a newborn at the proper angle of 30-45 degrees, which can yield to digestive issues and Acid Reflux in infants.

Now, Babee Laptime has solved this problem!
Belmar, NJ (PRWEB) September 22, 2011
After re-evaluating today's modern infant carriers, Babee Laptime is now promoting their newly designed infant seat that provides the proper feeding angle for newborns, reducing the risk of digestive disorders among infants. Parents of infants that suffer from gastric disorders such as infant acid reflux, colic, GER (Gastro esophageal Reflux) and GERD (Gastro esophageal Reflux Disease) know all too well the helpless feeling that comes with the inability to comfort your suffering baby. Crying with feeding, persistent cough, difficulty eating, vomiting, gas and abdominal pain frequently accompany reflux related disorders making life stressful for parent and child alike. After consultation with some top physicians regarding current infant carriers on the market, it was seen that most baby seats do not promote the feeding of a newborn at the proper angle of 30-45 degrees, which can yield to digestive issues and Acid Reflux in infants.
While treatments for acid reflux run the gamut from simple antacids to histamine blockers, proton pump inhibitors, and in severe cases surgery, one of the simplest means to combat colic, GER and GERD is hold your baby at the proper angle during feeding. According to Anthony Garofolo, managing member of Infant Affection,LLC, holding your infant at a 30 to 45 degree angle during feeding and for one half hour afterward can reduce the occurrence of acid reflux symptoms and improve digestion.
"When we were developing our Babee Laptime infant seat system we discovered numerous studies that recommended holding infants at an elevated angle during feeding," he noted. "Since acid reflux occurs when food from the stomach backs up into the esophagus, holding your baby's head upright during and after feeding decreases the likelihood that acid reflux will occur. The problem for many new mothers, however, is the fatigue associated with maintaining the optimal feeding position for long periods of time."
According to Garofalo, the Babee Laptime system makes it easy to maintain the proper infant position because it's design and secure five-point harness reduces stress on the mother and child during both breastfeeding and bottle feeding. The new baby product is also easy to use for fathers, siblings and grandparents who share in the baby feeding duties.
"Babee Laptime alleviates the cramped arms and back pain many parents experience during feeding, because the infant seat system does all the work previously done by tired muscles. This feature is especially beneficial during late night feedings when parents are especially tried," explains Garofalo. "Feeding time is also an integral part of the bonding process which fosters stronger parent-child relationships and forms the foundation for the baby's future self-esteem and social interactions. We designed Babee Laptime to give parents more face-to-face time with their newborns, playing, cuddling, talking and sharing precious once-in-a-lifetime moments."
While acid reflux conditions vary in cause and severity, Garofalo points out that the natural approach to relief in accordance with the advice of the family pediatrician may be the best course of action. More information about acid reflux, colic, GER and GERD is available on BabeeLaptime.com.
###