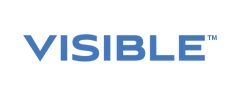 Q2 was another stellar quarter for Visible Technologies across all aspects of the business, nearly tripling the market's rate of growth and adding more new customers in the first half of 2011 than any previous period in our history.
Bellevue, WA (PRWEB) September 22, 2011
Visible Technologies™, the leading provider of social media monitoring and analytics software and services, today announced record results in H1, 2011, outpacing market growth with strong customer wins, key management additions, new partnerships and breakthrough product enhancements. Visible's sales increased by 71 percent over the previous half year, and with the addition of $4 million in financing the company plans to continue to set the industry benchmark for social media software and use the funding to significantly enhance the sCRM capabilities of Visible Intelligence, its innovative social media monitoring and analytics platform. Existing investors formed the round of financing, which includes Investor Growth Capital (IGC), Joe Grano and Ignition Partners.
"Q2 was another stellar quarter for Visible Technologies across all aspects of the business, nearly tripling the market's rate of growth and adding more new customers in the first half of 2011 than any previous period in our history," said Kelly Pennock, CEO of Visible Technologies. "Our customers' plans for social intelligence are evolving and we are expanding our product and partnerships to anticipate these needs. As the enterprise moves from passive social listening to active social engagement, we are extending our platform to provide a single solution to monitor, target, prioritize, engage and measure across the breadth of social media. This strategic investment reaffirms existing investors' commitment to our success."
Key Milestones

Funding: Received funding of $4 million from existing investors to expand opportunities for integration through APIs and engagement capabilities.
Significant agency and customer demand: Visible Intelligence continues to experience rapid adoption and has been selected by both global agencies and major brands in the first half of 2011, including; Y&R, and Walgreens.
Industry partnerships: The first half of the year marked a very successful launch of Visible's partner ecosystem, which is designed to link social insights with other processes and systems for improved business outcomes. Visible has formed a strategic partnership with SymphonyIRI Group, a leading global provider of innovative solutions and services, and integrated empirical information on markets, consumers and shoppers; and a strategic alliance partnership with Meteor Solutions, a provider of a social audience marketing suite. Additionally, Visible is proud to announce it is a Gold level member in the Oracle PartnerNetwork (OPN).
Enhanced Visible Intelligence™ platform: New enhancements to further improve analytics, topic discovery, reporting and alerting functions include:
o Share of Voice Analyzer: Enhanced to analyze share-of-voice by volume, identify differentiating and common terms compared to competitors, drill-down into conversations and identify influencers, etc., whether for competitive benchmarking or checking internal product lines against each other.
o Event-driven Alerting: A new alert type notifies the user when the volume of data spikes or drops in online conversations.
o Advanced Targeting: Enables users to drill-down into age, gender, location and interests for more targeted engagement.
Visible also introduced a free-trial of its social media monitoring and analytics platform, so organizations can see these enhancements and more in action.

Strategic new hires: Key positions were added in the US in engineering, sales, customer support, consulting, marketing and on the international sales team to fuel innovation and heighten global demand for the platform.
Supporting Quotes:

"Visible Technologies has proven it's a force to be reckoned with and is punching far above their weight, accomplishing significant achievements in 1H, 2011, as more companies continue to adopt its innovative platform. We're confident in Visible's ability to continue to bring breakthrough solutions that help companies of every size better understand and act on social conversations to drive growth, innovate and build a stronger brand."
o Phil Dur, Managing Director, Investor Growth Capital
"I have used most of the popular and more powerful social monitoring tools over the past five years and for quality of data, reach, and the consistency of data, none of them compare remotely to the data quality of Visible Intelligence."
o Thom Kennon, SVP, Director of Strategy, Y&R
"Visible Technologies serves as the nerve center for our social monitoring. They've been flexible and easy to work with throughout the review process. I've been impressed with their commitment to innovation; I'm excited to see many of their new features roll out this year. It's also worth noting, they fundamentally understood how to work with an enterprise as large as Walgreens. I can't get into specifics, but I can say that when it comes to pricing, they removed many of the barriers that are often created by antiquated pricing models."
o Adam Kmiec, eCommerce Director, Social Media, Walgreens
"Visible Technologies continues to be a valuable partner for M80. The in-depth analytics capabilities provide meaningful insights into online conversations, as well as the ability to understand site and author influence. Also, the latest platform update supports our clients with increasingly sophisticated results."
o Jeff Semones, President, M80
"With Visible Intelligence, we can quickly answer ad-hoc questions that arise about Windows conversations. With just a few mouse clicks, we are able to see impactful graphs that help us to determine where to spend our marketing efforts."
o Stephen Rose, Worldwide IT pro Community Manager, Windows Commercial Team, Microsoft
Industry Validation:

o According to the report: "Vendors that offer robust platforms with built-in analytics capable of mining large volumes of unstructured data to deliver true insights will likely benefit from the increased focus on social intelligence. Those that offer value-add professional services and specialized expertise that can help companies dig deeper and infuse the right culture around social intelligence also have staying power."
About Visible Technologies
Visible Technologies is the leader in social media monitoring and analytics solutions, providing the perfect combination of software and services to harness business value from social communities. Visible Intelligence, its next generation platform, delivers big improvements in competitive and brand intelligence, marketing ROI and smarter customer insights through an agile platform that activates brand communities at Internet speed and enterprise scale.
With offices in Seattle, London and New York, Visible ranks as one of the Inc. 500 fastest-growing private companies. Visible has successful relationships with DIRECTV, Microsoft, Xerox, Dr Pepper Snapple Group, Boost Mobile, Autodesk, Vail Resorts, Burson-Marsteller, Razorfish, Group M, Wunderman Network, Tribal DDB Worldwide, John Lewis and Spring Creek Group. For more information, go to http://www.visibletechnologies.com.
Press Contacts
Suzi Owens, Blanc & Otus for Visible Technologies
415.856.5125
sowens(at)blancandotus(dot)com
###