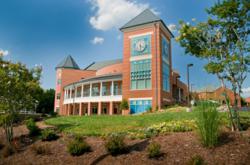 "After 40 years of outstanding service to older adults, we wanted to recognize this milestone with a celebration," said Bobbie Gray, Executive Director of the retirement community.
Newton, NC (PRWEB) September 26, 2011
On September 30th as a thank you to all the amazing families and friends we've been privileged to serve, Abernethy Laurels retirement community will be celebrating their 40-year history. They will also be hosting the 10th Annual Antique and Classic Car Show. Guests will be treated to live entertainment, refreshments, face painting, balloons and children's play area and have the opportunity to vote for their favorite classic car. Residents of the community, guests and staff can stop by from 5:00 pm to 8:00 pm to enjoy a night of great music, friends and fun.
During the past year, Abernethy Laurels received a Five-Star Award for quality from the Centers for Medicare and Medicaid (CMS). CMS developed the system to review nursing homes based on information submitted about residents and their care, and to help consumers, their families and caregivers compare nursing homes more easily. Nursing homes with five stars are considered to have above average care and service. The retirement community also received the Observer News and Enterprise's Reader's Choice "Best of Catawba County" award in both the categories of Retirement Community and Nursing Homes.
Abernethy Laurels, a ministry of the United Church Homes and Services (UCHS) is a not-for-profit corporation organized in 1961, now celebrating its 40th anniversary of exceptional care to older adults. Abernethy Laurels employs approximately 295 people and is home to 367 residents. UCHS is a provider of senior living opportunities and programs of outreach serving over 1200 older adults through three continuing care retirement communities located throughout North Carolina and Virginia.
To learn more about the 40-year tradition of excellence and first-class amenities for active older adults at Abernethy Laurels, visit http://www.abernethylaurels.org or call 828-465-8552.
###