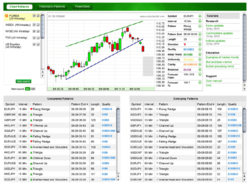 Autochartist's affiliation with VantageFX will provide traders with a competitive edge
(PRWEB) September 24, 2011
Autochartist's effective suite of tools empowers traders to identify chart and Fibonacci patterns in real time, alerting traders of pattern formations within minutes, allowing traders to benefit from early notification.
Erik Voges, COO of Autochartist.com said, "Autochartist's affiliation with VantageFX will provide traders with a competitive edge. It is clear that their continuous strive to provide innovative and current technology to their customers, coupled with a personal approach is in line with our values. We are excited about a mutually beneficial partnership."
"Many traders believe that chart patterns are one of the most powerful tools a trader has at their fingertips. Vantage FX has now raised the bar by partnering with Autochartist by providing all funded live accounts with the PowerStats toolkit which provides Forex traders with an insight into the relative movements of Forex instruments. This allows Forex traders to better asses risk and choose appropriate instruments to trade," says Vantage FX.
About Vantage FX
Vantage FX is able to offer some of the most variable Forex spreads available and is a one stop forex trading destination. Vantage FX is based in Sydney, Australia and has an office located in London, UK.
Being the recipient of three prestigious awards namely, Best Forex Broker South East Asia (IBTimes Trading Awards 2011), Forex Australia Excellence Award (IBTImes Trading Awards 2011), and Recommended For Forex (AFR Smart Investors Blue Ribbon Awards 2011), Vantage FX continually strives to offer their clients a superior level of support.
Vantage FX is a Corporate Authorised Representative of Enfinium Pty Ltd and is regulated by the Australian Securities and Investments Commission (ASIC). VantageFX UK is fully regulated by the Financial Services Authority (FSA) Reg no. 501057 and works closely with its partner, Enfinium Pty Ltd.
About Autochartist.com
Established in 2004, Autochartist has a solid footprint currently serving end users in over 80 countries worldwide. With more than 2,000,000 charts being viewed per month, Autochartist.com is the market leader in automated technical analysis services for retail traders. The Autochartist suite of tools services many of the largest global financial institutions and has become one of the world's best known brands in technical analysis.
http://www.autochartist.com
# # #