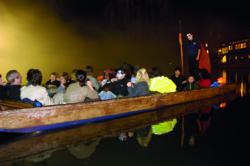 A place of dimly lit lanes and dark shadows, which hint at something altogether more sinister.
Cambridge, Cambridgeshire (PRWEB) September 30, 2011
Tickets are now on sale for an event which is fast becoming an integral part of the Halloween celebrations in Cambridge. Now in its seventh year, and co-produced by Scudamore's Punting Company and Visit Cambridge, the much-acclaimed Cambridge Ghost Tour offers customers a journey deep in the city's dark and terrifying history.
The fearless souls who join the tour will celebrate Halloween with a ghost tour which takes them into the heart of nocturnal Cambridge - complete with witches, restless spirits, exorcisms and tales of the macabre. The tour combines an atmospheric Jack O' Lantern-lit punt tour of the College Backs with a spooky walk through the heart of Cambridge's most haunted lanes.
Cambridge by day is an attractive place, graced by the fine buildings of the colleges and University, its streets full of bustling activity. The River Cam, too, is a beautiful and tranquilizing haven, away from the hustle and bustle of busy life. But by night, this ancient city becomes a place of dimly lit lanes and dark shadows, which hint at something altogether more sinister.
Whether it is the mysterious death of a former King's College fellow or the ghostly footsteps seen running up the stairs of the university photographers' shop, this tour will illuminate some of the many hitherto untold Cambridge ghost stories. Join the tour to find out more about these gruesome tales, if you dare.
Tours this year are scheduled to run over ten evenings from Friday 21st to Monday 31st October (private tours only on Monday 24th and Tuesday 25th), with up to seven tours each night, leaving at 30 minute intervals between 18:00 and 21:00. Tours depart from Scudamore's Mill Lane punt station, Cambridge.
Tickets cost £18.50 for adults, £17.00 for concessions, £9.25 for under-12s and are available from Scudamore's (01223 359750) and Visit Cambridge (01223 457574).
###