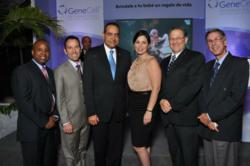 Our new office in the Dominican Republic extends our reach and makes our services easily accessible for parents in the country looking to preserve viable adult stem cells from both umbilical cord blood and dental pulp
Miami, Florida (PRWEB) September 23, 2011
GeneCell International, a trusted provider in the processing and preservation of umbilical cord blood, announced today the opening of its new offices in the Dominican Republic's capital city, Santo Domingo. The company, with its corporate headquarters located in Miami, Florida, collects and stores umbilical cord blood, dental pulp and adipose tissue that can later be used to treat a variety of diseases and blood disorders. GeneCell hosted a launch cocktail-style event at Taboo Bamboo, a local restaurant in the heart of Santo Domingo, to celebrate the opening of the new offices.
The event was attended by more than 60 doctors and featured several keynote speakers. The evening's program was kicked-off with a special introduction by CEO of GeneCell International Eduardo Cortez, who welcomed guests and shared his excitement on the company's successful expansion into the Dominican Republic. Mr. Cortez also recognized special guests including Dr. Todd Flower, Laboratory Director of the Miami facility, and Dr. Adriana Lopez, Laboratory Director of the Venezuelan facility, as well as Dr. Albert Milcíades, Medical Director of the Dominican Republic facility. Mr. Cortez's introduction was immediately followed by a special presentation made by Dr. Lopez, who spoke of the current, potential and future applications of cord blood, dental pulp and adipose stem cells, with an emphasis on cord blood stem cells and their scientific advances. A client testimonial was also provided by well-known and respected radio personality, Miralba Ruiz, who applauded GeneCell's efforts and urged doctors to inform their patients about this potentially life-saving opportunity.
Other notable and prominent guests, and strong supporters of GeneCell, in attendance included Medical Director and President of La Sociedad Dominicana de Ginecología y Obstetricia Dr. Albert Milcíades and the Dean of UNIBE (Universidad Iberoamericana) Dr. Julio Castaño Guzmán.
Special GeneCell staff members in attendance included Sales Manager Cesarina Vazquez, Marketing and Sales Assistant Aida Beltre and Administrative Assistant Binny Felix.
"Our new office in the Dominican Republic extends our reach and makes our services easily accessible for parents in the country looking to preserve viable adult stem cells from both umbilical cord blood and dental pulp," said GeneCell's Operations Director, Jose Cirino. "These stem cells are used to safeguard families against diseases once considered untreatable. GeneCell International has deep roots in Latin America and more than a decade of experience in helping parents make informed decisions that can lead to potentially life-saving possibilities."
Alongside its commitment to educating the public on the benefits of cord blood preservation, GeneCell's presence in Florida and Latin America makes it uniquely qualified to provide information for the Hispanic community. For many Hispanics who require umbilical cord blood stem cells for medical treatments, genetic matches are often difficult to find. GeneCell maintains a large presence in Latin America – the company operates a large facility in Venezuela - promoting the practice and encouraging families to bank their newborns' cord blood to help protect their loved ones.
About Umbilical Cord Blood Preservation
Umbilical cord blood preservation is a process by which blood is collected from the umbilical cord of a newborn baby and is stored cryogenically in a specially-designated bank. According to the National Marrow Donor Program, cord blood contains cells that can be transfused to a patient to treat various diseases, including lymphoma and leukemia. The list of illnesses that can be treated with cord blood continues to grow. In addition, the cord blood can be used to treat the child from whom the blood was collected, as well as some first-degree relatives who are a close genetic match such as family members. Cord blood banking is regulated by the U.S. Food & Drug Administration and each year more and more parents choose to save their children's cord blood should the medical need arise.
About Dental Pulp Stem Cells
One of the major advantages one gets from harvesting stem cells from his own body is that there will be no refusal of these cells when they are harvested and subsequently re-implanted. In the future, medical researchers anticipate being able to use technologies derived from stem cell research to treat a wider variety of diseases including Parkinson's, Alzheimer's, spinal cord injuries, diabetes, heart diseases, liver disease, multiple sclerosis, muscle damage and many other diseases. The discovery that human dental pulp tissue contains a population of multi-potent mesenchymal dental pulp stem cells with the ability to reproduce quickly for self renewal and the ability to differentiate into functional odontoblast has revolutionized dental research and opened new avenues in particular for reparative and reconstructive dentistry and tissue engineering in general.
About GeneCell International
GeneCell International, LLC is a trusted provider in the collection, processing and storage of adults stem cells from various sources which have the potential to treat a variety of diseases and disorders. Headquartered in Miami, Florida and with offices in Central Florida, Colombia, the Dominican Republic, Panama and Venezuela, GeneCell operates state-of-the-art laboratories and storage facilities for the cord blood of thousands of clients. For more information and to learn more about cord blood banking visit http://www.GeneCell.com, http://www.genecelldentalpulp.com or http://www.lvcm.com.ve
###