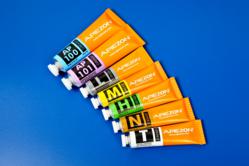 UK and Europe (PRWEB UK) 23 September 2011
We are delighted to announce the launch of our official Apiezon online shop.
Brought to you direct from M&I Materials Limited, the sole manufacturer of Apiezon, APIEZON SHOP is a fast and convenient way for customers in the UK and Europe to buy small quantities of Apiezon high vacuum grease.
We have launched the APIEZON SHOP to support the efforts of our extensive and well established global network of distributors. The new online shop also provides a solution for customers wanting to buy Apiezon grease in regions not currently serviced by one of our approved distributors.
APIEZON SHOP stocks all seven of our high vacuum greases. Orders placed before 2pm will be despatched on the next working day and if you need any technical assistance then you have direct access to the experts that have been manufacturing your product for over 80 years.
If you are not already familiar with Apiezon, it is a range of high vacuum greases, sealants, lubricants and thermal contact media. It will be our high vacuum greases which will be available from the APIEZON SHOP and these greases are hydrocarbon based, silicone-free and highly resistant to creep. The high quality, world renowned greases are popular because they can reduce the chance of your grease travelling away from the area of application and contaminating adjacent surfaces. Our ultra high vacuum greases also ensure cleanliness and low outgassing without contaminating vacuum systems.
Why Use Apiezon High Vacuum Greases?

Excellent performance in a wide range of vacuum applications
Silicone-free, highly creep resistant
Solutions for a variety of temperatures
Stable, chemically inert and non toxic
Strong absorption properties ensuring powerful 'gettering' action
An option specially formulated for cryogenic use
Easy to use and remove
Proven track record including use by NASA, NATO, Boeing, CERN and leading Universities
Visit APIEZON SHOP today http://shop.apiezon.com and start shopping or to find out more about all of the products in the Apiezon range please visit our main website http://www.apiezon.com or contact our Helpline tel: +44 (0)161 864 5419 email: apiezonsales(at)mimaterials(dot)com
###