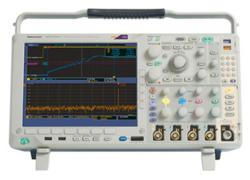 Vernon Hills, IL (PRWEB) September 22, 2011
One remarkable oscilloscope with two domains! The Tektronix® MDO4000 Series Mixed Domain Oscilloscopes let users see both the time and frequency domains in one glance. This allows engineers and technicians to view what's happening in their design at any instant with the time-correlated display of analog, digital, and RF signals. They can accurately analyze RF signals with -60 dBc (typical) dynamic range. With spectrum time, they can investigate how their RF spectrum is changing over time or with the device state.
Other features include ≥1 GHz ultra-wide capture bandwidth and advanced RF power triggers to quickly capture specific RF events. With automated and manual RF markers, users simply define threshold and excursion values to automatically mark all peaks that meet their criteria. MagniVu™ high-speed acquisition provides 60.6 ps fine-tuning resolution. Wave Inspector® controls offer easy navigation of time-correlated data from both the time and frequency domains. Two USB 2.0 host ports on front and rear panel are available for quick and easy data storage, printing, and connecting to a USB keyboard.
Choose from 50 kHz to 3 GHz or 50 kHz to 6 GHz frequency range models. To find out more, call 800-358-5525 or visit http://www.davis.com/18761.
Davis Instruments has been one of the world's leading sources of test, measurement, control, and calibration instruments since 1912. With expanding capabilities in industrial spheres such as power and utilities, petrochemicals, aerospace and electronics production, field services, and construction, the organization continues to respond to technological demands. Based in Vernon Hills, Illinois, Davis Instruments is dedicated to providing customers with excellent service and product applications expertise. For more information, contact Davis Instruments, 625 East Bunker Court, Vernon Hills, IL 60061. In the US or Canada, call 800-358-5525. International customers, call 847-327-2000. Visit us at http://www.davis.com.
###