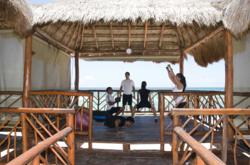 Gym Rat Race
Retreat and fitness competition on the beach
February 16-20, 2012
El Dorado Royale, a Spa Resort by Karisma (five-star)
Riviera Maya, Mexico
Milwaukee, Wis. (PRWEB) September 22, 2011
My Destination Wellness is bringing the gym to the beach with a vacation-meets-fitness challenge called the "Gym Rat Race" in Riviera Maya, Mexico, February 16-20, 2012.
A leading provider of fitness vacations and partner of Funjet Vacations, My Destination Wellness presents the Gym Rat Race as a way for gym-goers and those sticking to New Year's Resolutions to get tropical vacations during the winter months, while continuing their fitness agendas. Plus, with many Americans participating in tough, mud and obstacle runs, Gym Rat Race offers a unique fitness challenge in paradise.
The Gym Rat Race package includes exercise classes and personal training and evaluation sessions, as well as healthy meals and cooking demonstration with take-home recipes. The Gym Rat Race schedule leaves plenty of free time for entertainment and socializing.
Reservations and registrations for the Gym Rat Race can be made individually or in teams of six (6) from local gyms or workout groups. Registration forms, with package rates based on room type and including gourmet all-inclusive resort accommodations and airport transportation, as well as the Gym Rat Race activities, can be found at http://www.MyDestinationWellness.com.
Registration forms should be emailed to GymRatRace(at)MyDestinationWellness(dot)com. During the registration process, guests can easily add airfare to the Gym Rat Race package with Funjet Vacations, book pre- or post-event travel, or add excursions and tours for their time in Mexico.
About David Pritchard
A leader in the health and fitness industry for the last 20 years, David Pritchard's clients have included professional athletes in the NBA, NFL and MLB, boxers, Olympians, and top-level executives. Pritchard owns and operates a private wellness and training center in Milwaukee, Wis., where he uses his skills as a certified strength, conditioning, exercise and nutrition specialist to work with individuals and groups. Pritchard earned his degree in exercise science and has certifications from the American Council of Exercise and the National Academy of Sports Medicine.
About My Destination Wellness vacations
With a customized approach that extends beyond the vacation, My Destination Wellness adds fitness and nutrition plans overseen by "Wellness Concierges" to stays at El Dorado Royale or El Dorado Casitas Royale, By Karisma. My Destination Wellness provides beach-side exercise classes, personal training, and Chef-prepared healthy meals. My Destination Wellness vacations may be booked with a travel agent or on http://www.FunJet.com.
About the El Dorado Spa Resorts & Hotels, By Karisma
The El Dorado Spa Resorts & Hotels, By Karisma, in Riviera Maya, Mexico, offer Conde Nast Traveler "Readers' Top 100 Hotels in the World" and AAA Four Diamond rated accommodations and personalized service. Featuring more than a mile of sandy beach and an unparalleled Gourmet Inclusive® experience, the El Dorado Resorts provide an array of extraordinary restaurants, breathtaking views and exciting nightlife. Guests enjoy elegant suites with 24-hour room service and private Jacuzzis, as well as a variety of swimming pools and spas offering popular couples massage classes. For more information, visit http://www.ElDoradoSpaResorts.com.
###