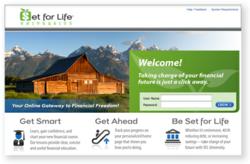 The number one problem in today's generation and economy is the lack of financial literacy. — Alan Greenspan.
Casper, WY (PRWEB) September 22, 2011
"We need Champions and real solutions to address the epidemic lack of financial literacy in America. Sponsored by Set for Life Financial and local Wyoming business leaders, http://www.WyomingMoneySmarts.org's Mission is to be part of the Financial Literacy and Education Commission's Vision of attaining 'Sustained well-being for U.S. individuals and families'" says Tim Rocho, CEO of Set for Life Financial.
"A lack of financial knowledge, combined with our New Economy, has really impacted millions of American's financial lives, We see statistics like the 2010 survey by CareerBuilder and Harris Interactive that 77% of Americans said they are now living from paycheck to paycheck. That's frightening" Tim says.
"The Department of the Treasury in 2009 said that 49% of all Americans had trouble meeting their monthly bills and that 58% haven't saved for retirement. And on the other end of that spectrum are the people who have extra income, but because they don't have a plan, still manage to just get by". continuing,
"This financial pressure is creating a great strain on workplace productivity and several HR professionals have recently voiced to SFL that financial literacy education was the "biggest gap" in their benefits offering for employees today" he adds.
According to Bankrate.com, only 28% of Americans are meeting their retirement savings goals.
Ed Atchley, V.P. of Western Power Wash in Casper, Wyoming is excited to bring financial literacy training to his company's employees. "It's really clear to me how our employees, and everyone who takes the program, will benefit from this knowledge," says Atchley, a former school teacher. "With the uncertainty that has taken over the American public, giving my employees an opportunity to gain more personal financial insight, so that they can make better financial choices, I believe is a necessity."
Tim Rocho states that "Set for Life University is a 24/7 online platform offering customized curriculum to meet the needs of our clients. Since the courses and interactive planning tools are online, participants can take time to focus on the areas most important to them. We don't recommend any company's products or plans as our financial education is funded by sponsorships. Because of this, employees feel comfortable with the education and we find that after completing the course, they are much more confident making financial choices personally and with financial professionals."
Some of the benefits to employers and employees are are:

Course completion is favorable in regard to ERISA 404c Compliance
Participants have measurable increases in financial knowledge
Better on-the-job performance and outcomes
Participants are more comfortable dealing with financial professionals
Increased 401(K) participation and contribution
It's free right now!
To learn more about the Wyoming Financial Education Initiative and how you can participate as an Employer or Sponsor, visit http://www.wyomingmoneysmarts.org , or contact SFL corporate at 480-855-1299. Employers and employees in Wyoming can sign up for the SFL University Financial Challenge training from now through October 3rd on http://www.wyomingmoneysmarts.org
Set for Life Financial, LLC. is a company committed to delivering financial literacy education, tools, and products to millions of Americans with the Mission of effecting measurable and meaningful behavioral changes in them that will move their lives, and our country forward.
###