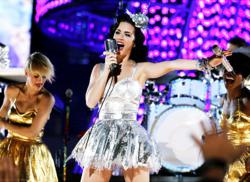 Los Angeles, CA (PRWEB) September 22, 2011
Explore Talent (http://www.exploretalent.com), a premier online social-network for industry insiders, announced today on its exploretalent news site that singer Katy Perry has become the first woman to score five number one songs from one album on the Billboard Hot 100 chart. The only other singer in history to have had this honor was the King of Pop, Michael Jackson with his album "Bad." However, Michael Jacskson was only on the Billboard Hot 100 chart for seven weeks, while Katy Perry has stayed at the top for 18 weeks.
The coolest part about this? Only pop legend himself, Michael Jackson has had five No. 1s from one album and that album was "Bad."
But Jackson spent a total of seven weeks at the top with his "Bad" songs; Miss Katy Perry has been at the top spot now for an impressive 18 weeks.
The album that has catapulted Katy Perry to this success is called "Teenage Dream," and her new single from this album, "Last Friday Night (T.G.I.F.)," has sold 1,745,000 digital copies in the US to date.
For more information, and to read other celebrity news, check out the talent agency's site.
Explore Talent's proprietary software and vast infrastructure is the most advanced entertainment-based technology of its kind. The site's popularity is based on the fact that there are many ways for talent to network, make friends and connect with other industry players, participate in wide variety of contests and earn prizes for being active on the site. The easy access to a pool of 5 million members attracts industry players who are posting every month about 50,000 new auditions and job openings which is 30 times more than any other site.
For more information on Explore Talent, go to http://www.ExploreTalent.com.
###