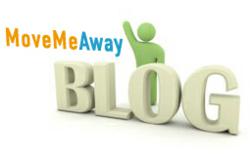 We would like to encourage professional movers, moving consumers and companies in related industries to join our blog community and share their ideas, expertise and experience in order to help each other and simplify the whole moving process
Montreal, Quebec (PRWEB) September 30, 2011
The MoveMeAway.com Moving Blog is constantly updated to meet the moving customers' needs throughout the moving process. The most recent post focuses on coping with the tiny size of college dorms. The tips in the blog range from how to help parents cope with anxiety to figuring out how to store unnecessary items. MoveMeAway.com added the blog to their website as an additional tool to help both moving companies and consumers during the moving process.
When asked about the MoveMeAway.com Moving Blog, Lion Sedov, Marketing Director, says "MoveMeAway.com understands that moving is a difficult and stressful task. We would like to encourage professional movers, moving consumers and companies in related industries to join our blog community and share their ideas, expertise, and experience in order to help each other and simplify the whole moving process."
The blog is an essential tool for anyone suffering through a move. Although based out of Canada, the MoveMeAway.com blog offers tips for people all over the world.
"We want to be more than just a moving lead generator in the moving industry; we provide both movers and consumers with numerous tools to ease the whole moving process. We try to make every move booked through us as stress-free as possible. The Moving Blog on our site is there for that purpose," continues Sedov.
Movers and customers can comment on existing posts, write on their own knowledge and experiences, and use social media tools supported by the blog to share it with family, friends, or colleagues.
About MoveMeAway.com:
MoveMeAway.com is the fastest growing online moving platform, based in Montreal, Canada, with multiple partnering moving companies within Canada and The USA. MoveMeAway.com helps consumers and movers meet with the right people at the right time and place. They are committed to making the whole moving process stress-free and hassle-free for consumers as well as for moving companies.
Contact:
Lion Sedov, Marketing Director
888-700-9048
info(at)movemeaway(dot)com
###