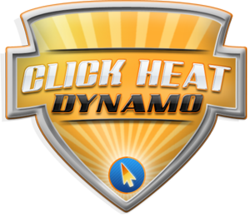 Click Heat Dynamo gives the power of Heat Maps to WordPress users the world over
Dallas, TX (PRWEB) September 24, 2011
The new plugin released by Click Heat Dynamo (http://www.ClickHeatDynamo.com) ensures that website owners are easily able to monitor the performance of their website for maximum efficiency. Website owners and bloggers from beginners to experts are now able to easily track the performance of the various aspects of their websites to increase their sales, subscribers, and, ultimately, profits. Thanks to this new plugin, website owners and bloggers can instantly improve the performance of their website by monitoring clicks.
Website owners utilizing the WordPress plugin released by Click Heat Dynamo are able to monitor the clicks on their website to determine what elements are most popular, as well as determine what elements of their website are least effective. Considering the world of internet marketing is such a competitive one, the ability of the plugin to help users find the elements of their website that are actually discouraging visitors from returning will play a great role in helping them obtain a higher ROI.
CrazyEgg.com is the company leading the market for this type of service, but website owners must pay a monthly fee for an equivalent service. In addition, the service was not built specifically for WordPress, making it more difficult for WordPress users to take advantage of this service. Taking into account the fact that the majority of the websites are starting to utilize WordPress as their content management systems, CazyEgg can be more difficult to set-up WordPress users.
Click Heat Dynamo is a WordPress Plugin that is incredibly simple to set up, making it easy for WordPress users to install and use in a matter of minutes. In addition, this CrazyEgg alternative Click Heat Dynamo Plugin doesn't have the large monthly fees that other services like CrazyEgg have, making it a much more accessible Plugin to WordPress users around the world. The new Plugin released by Click Heat Dynamo ensures that website owners can instantly track the performance of their website and ensure optimum performance.
About Click Heat Dynamo
Click Heat Dynamo is designed to be the ultimate solution for those looking to increase the ROI from their website. The Click Heat Software was built specifically to help individual bloggers and small businesses to increase the effectiveness of their website, and has provided many unique and innovative solutions to make running a website simpler.
For more information on the plugin, or to purchase online, visit ClickHeatDynamo.com.
Media Contact:
Wesley Williams
http://www.ClickHeatDynamo.com
###