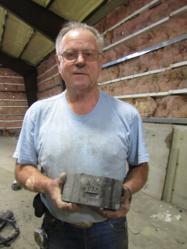 To us, having the USA stamp on our product is really important.
Craigmont, Idaho (PRWEB) September 22, 2011
Building? Check. Electricity? Check. "Made in USA" stamp? Check.
Before his first product rolled off the line last week, foundry owner Ed Endebrock wanted one thing clear: It was going to be marked as made in the USA. Ende Machine and Foundry was created to insource cast iron castings formerly made in China.
Endebrock started the foundry to service his main company, Hydraulic Warehouse Inc. which makes hydraulics parts in nearby Lewiston. He made the decision after he drew up plans for the product he needed, sent them to the China manufacturer and found that one of his competitors received the product first. Endebrock ended up buying the castings from his competitor.
"To us, having the USA stamp on our product is really important," said Endebrock. "Ninety percent of our competitors use raw product from China and Africa. The word is getting out that we're starting up and I'm already getting inquiries from companies in the U.S. who are interested in buying from us."
The decision to start a foundry didn't come quickly. The equipment is expensive and requires significant start-up capital. Endebrock was able to purchase equipment from businesses in Indiana, Cincinnatti and South Carolina that had previously supplied the auto industry.
"Most of our equipment goes into the agriculture, mining and trucking industries and those people are pretty down-to-earth," said Endebrock. "They appreciate it when something is made in the USA."
Ende Machine and Foundry poured 1,500 pounds of castings this week and expects to be up to 2,000 pounds next week. The foundry started with four employees but could go up to 20, said Endebrock.
While this only means a handful of jobs for this community, Craigmont is small-town America. The local high school's entire senior class consists of about 20 students and the town's population is about 500; a handful of jobs is a big deal.
Ende Machine and Foundry isn't the only Idaho company to insource products previously made in China. Buck Knives in Post Falls is in the process of shifting production from China to its Idaho plant.
###