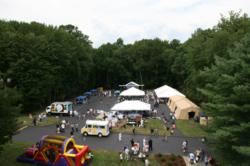 This is the first time in Lex's history that we've had our customers, employees, and vendors together in great number celebrating what we've earned through partnership.
Shelton, CT (PRWEB) September 22, 2011
Lex Products, the leading North American-based manufacturer of power distribution and control products for Entertainment, Military and Industrial markets, hosted an open house event on August 13, 2011 where customers, employees, and vendors came to celebrate the official opening of Lex Products' new Shelton, Connecticut facility and other recent achievements and innovations.
"This is the first time in Lex's history that we've had our customers, employees, and vendors together in great number celebrating what we've earned through partnership," welcomed Lex president Mike Scala during the ceremonies at the event. "Over the past several years Lex has experienced incredible growth, and we are working extremely hard to continue that going forward. In fact, we are expanding in the next few weeks into a new distribution center just down the road. In one short year, we already need more space."
Lex welcomed guests to the open house with games, classes, food and refreshment, music, facility tours, product displays, and demonstrations.
Honored speakers included Senator Richard Blumenthal, Congressman Jim Himes, Commissioner of the CT DEEP Daniel Esty and Shelton Mayor Mark Lauretti.
In recognition of Lex's contributions Senator Blumenthal stated, "Thank you for the great work you're doing for our armed services—making possible everything from air conditioning, to cooking, to lights—electrical distribution on the ground and in the battlefield is part of the advancing technology that is enabling the United States of America to project its power, to protect our nation, and to secure our freedom. You are an important part of that mission and that work."
Lex used the open house to demonstrate applications of different product lines. A Lex Mobile Power Series, or LMP40 box fed power from a generator to the military solutions tent powering multiple high definition displays and an in-tent air conditioning unit. The military tents also served as the setting for information sessions on Lex's business with the US Marine Corps Mobile Electric Power Distribution Replacement Systems (or MEPDIS-R) and other topics.
A separate generator was used to distribute power through a cam splitter box to a rolling dimmer rack that powered the entertainment stage where the formal presentations were made, and saxophonist Benny Reid and Indy band Black Taxi performed.
A dunk tank on site served as more than just entertainment. All proceeds from the dunk tank were matched by Lex and contributed to the Plasa Foundation's Behind the Scenes charity, which provides financial support to ill or injured entertainment technology industry professionals. Various Lex employees were 'dunked' for donations, raising a total of $1,430.
Lex CEO Bob Luther concluded the formal ceremonies by speaking about how Lex has used innovation, integrity, and teamwork to grow significantly, followed by a symbolic "ribbon cutting" where three banners unfurled down the side of the new facility emphasizing these values.
Lex Products manufactures superior power distribution and control systems for demanding entertainment, military and industrial markets. The focus of Lex is to help design your portable power systems to deliver electrical power when and where you need it. Their products include Portable Power Distribution Boxes, Cable Assemblies and Cable Protectors. To learn more about the entire Lex Products offering, visit the Company's website at http://www.lexproducts.com.
# # #